A couple weeks ago I had a once in a lifetime opportunity to see an elite Brazillian jiu jitsu practitioner teach first hand. I'll start this by saying, I have never trained in the sport, the only information I know is information I've learned from repeated viewings of mixed martial arts fights and some educational youtube videos. That being said, I'm completely enchanted by it. The use of your body as leverage to defeat an opponent is just so different than most other forms of martial arts.
I had no idea what I was in for. When I found out Demian Maia was coming to town for a BJJ seminar, I asked the Premier Martial Arts contact Deon Thompson if it would be possible for me to observe the session and possibly get a chance to interview Maia afterwards, I received an emphatic yes.
When I arrived, I wasn't sure what to expect. Would Maia be at a podium talking? Would he be surrounded by a frenzied mob of students? This is what I saw as I walked in: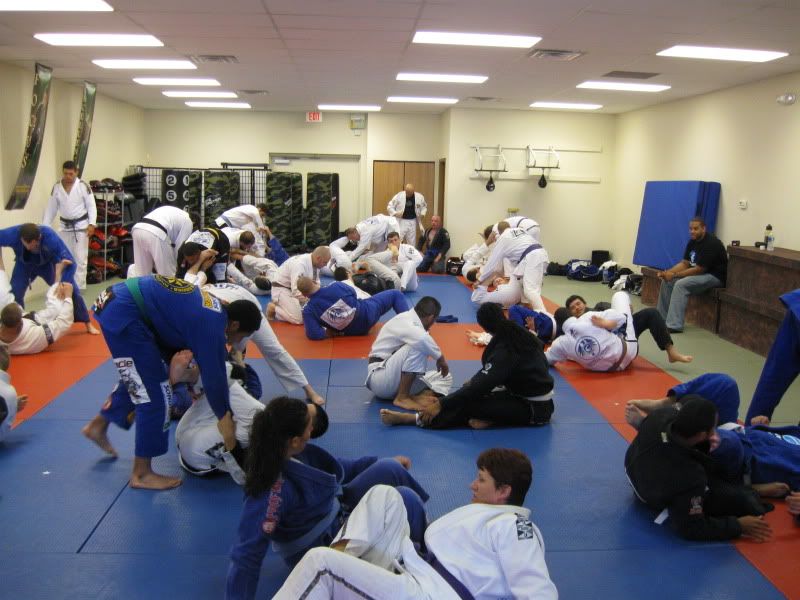 It was wall to wall people, with Maia showing them how to do a specific move, and then the attendees would practice it for a few minutes as Maia walked around checking their technique and offering pointers and encouragement. When I walked in, Deon Thompson motioned me over to meet Maia and I hastily made my way to the center of the mat to shake his hand. I got so caught up in the moment I forgot to take off my shoes, which is a big faux pas when it comes to Brazillian jiu jitsu. These people spend most of their time on those mats, so it's very important to not bring possible contaminants to the surface. Literally, as I was meeting Maia for the first time, he looked down and said "hey, your shoes!" Whoops.
I removed my shoes and made my way to the side of the room so I could stay out of the way but still take it all in. Watching Maia work was fantastic. He'd start with a simple arm drag, then continue to a leg trip, ending with a double leg takedown into half guard. He was so fluid with his movements and explanations, it was like watching Picasso teach art class.
Maia went through a gauntlet of techniques, teaching half guard sweeps which transitioned to a heel hook, or multiple escapes from an opponent's failed triangle attempt.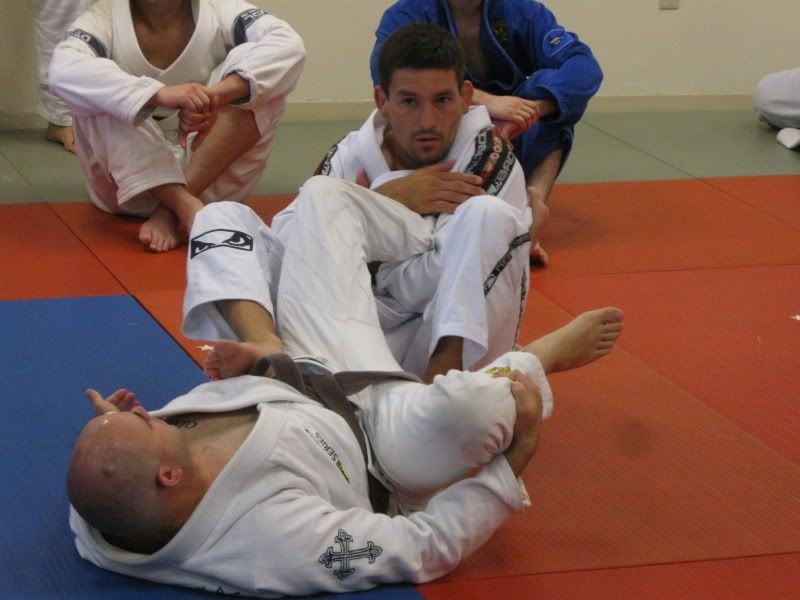 After over an hour and a half working with the gi, Maia opened up a Q&A session where students would ask questions about how to get out of specific situations and Maia always had an answer for them. No one could stump him, whether it was the 50-50 guard, getting guillotined during takedowns or simply further explaining techniques he had discussed earlier.
Afterwards, everyone transitioned into the no-gi style and Maia again showed some techniques that would work better without the gis. I found one absolutely fascinating, where Maia, from side control, would bait his opponent into sweeping forwards right into a triangle choke. It looked eerily similar to Maia's victory over Chael Sonnen at UFC 95.
I asked him about it and he said "yes, similar but I did the same thing from mount instead of side control"
Maia went over a couple more techniques, one was obtaining mount from side control and transitioning into a slick armbar attempt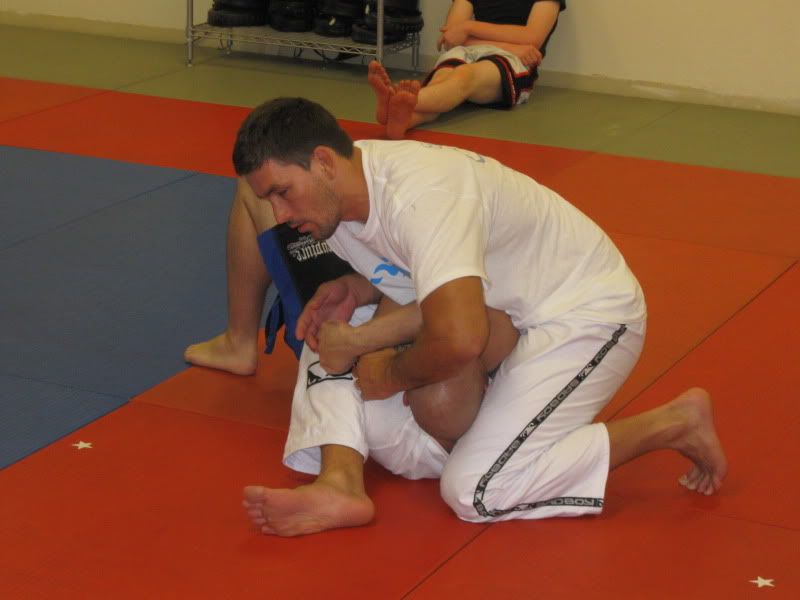 Lastly, he went over a technique I'd never seen before. One where he gained mount but faced the reverse direction. He would then put his opponents legs in a triangle at the knees, which would lock them together and give him no mobility. From that point you could put your opponent in a single or double kneebar and they would have no escape. Watching Maia work, it was obvious just how much more I need to learn about this beautiful sport. There is only so much you can absorb through observation of educational videos and countless fights, some things you have to literally experience yourself. After another 15 minute Q&A session, Maia took many pictures with the students and then sat down with me for a brief interview.
Brian Hemminger: Do you do these types of seminars often?
Demian Maia: Yes, I used to do them a lot but not as much lately since I've become so involved in MMA. I love doing them, getting to meet the fans, helping teach the students. This is a great experience for me. Also, you know, while teaching others, I'm fixing my own mistakes and continuing to improve as well. I love to teach and train, I've been working all over the US, especially in Chicago to improve my wrestling. Those guys have such great balance and they're so strong. Working with them is really going to help take me to the next level.
Do you expect to compete in the next Abu Dhabi grappling tournament?
I definitely would like to. I got 2nd in the 2005 tournament, I won the 2007, but I had to pull out of the 2009 due to my MMA training. If things don't get in the way, I hope I can compete.
On Anderson Silva..
Are you guys cool now after his disrespectful display during the title fight in Abu Dhabi?
You know, I never had a problem with him, before the fight, nothing. Now, with the way he acted during the fight, and the way he talked to me, yeah I don't like him. We have some mutual friends, they know.
Did you think he was tired in those last two rounds?
Yes, he was definitely tired. That's how I was able to hit him I think.
I loved your display of heart in the 5th round, have the fans responded well to you since your title loss?
Yes, the fans have been amazing. They love mentioning the 5th round when I was on my knees and throwing the punches. Honestly, I think I made more fans in that loss than I did in all of my wins combined before that.
On Alan Belcher...
You've continued to improve and focus on your striking in recent fights, do you think that you'll want to make an effort to use your grappling more with your upcoming fight against Alan Belcher?
MMA is like a triathlon, you can't just be good at one thing to win. You have to be good at them all. That being said, I do think I have the grappling advantage against Alan so I would love to get the fight to the ground.
Have you had a chance to study Belcher's style yet, and if so, have you noticed any holes in his game you can exploit?
I requested the tapes of all his fights, but they haven't arrived yet. I will definitely be looking at them with my team when they come in. I'm sure we'll be able to find something, no one is perfect.
When the interview was over, I didn't care if it wasn't professional, I had to get an autograph. Who knows if I'll get a chance to meet Maia again.
Oh and here's an arbitrary link to the site I write for before Kid Nate says something.