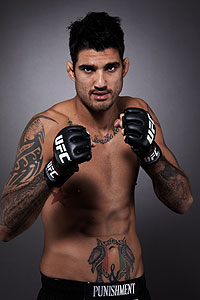 According to mmajunkie.com:
A middleweight bout between Kendall Grove and Goran Reljic has been demoted to UFC 116's un-aired preliminary card, and a light-heavyweight fight between Seth Petruzelli and Ricardo Romero has been promoted to its slot on UFC 116's "UFC Prelims" special on Spike TV.

The source said Grove prompted the change after the fighter openly criticized the UFC's longtime cable partner and "The Ultimate Fighter."
Kendal Grove on TapouT Radio: (audio)
"Spike TV pretty much runs everything on The Ultimate Fighter. They could be sub-leasing the UFC name, but I'm sure Dana and the UFC are getting a nice little pay check from Spike but other than that, Spike runs the thing. Dana doesn't choose who's going to be on the show, it's Spike executives."

"Even when I was on there in the earlier seasons, they were picking a couple guys with funny personalities. I'm pretty sure I got on there not because of my good looks, but because I had a pretty good personality."

"Everything is ratings to these guys. Just like that season where they shot [expletive] inside the fruit...people do that stuff. Why? Because of ratings. Is it a health violation? Yeah, but did you see the Spike TV people stop that from happening? It sells ratings and that's all they care about. They could give two [expletives] about our career."

"They just care about the six-weeks that they're shooting and get as much drama and stupidity out of us. That's all we are to them is cattle and sheep. They way they run things, they're slowly controlling us to be like that."
Main card:
Brock Lesnar vs. champ Shane Carwin
Yoshihiro Akiyama vs. Chris Leben
Matt Brown vs. Chris Lytle
Stephan Bonnar vs. Krzysztof Soszynski
Kurt Pellegrino vs. George Sotiropoulos

On Spike:
Brendan Schaub vs. Chris Tuchscherer
Seth Petruzelli vs. Ricardo Romero

Preliminary card:
Kendall Grove vs. Goran Reljic
Dave Branch vs. Gerald Harris
Forrest Petz vs. Daniel Roberts
Jon Madsen vs. Karlos Vemola
Get the latest gear