As the weekend approaches, an MMA fan's thoughts turn to DREAM and obsessive scheming to somehow get HD Net hooked up in my house. Thanks to Comcast, that's not going to be possible but I still can't stop thinking about this weekend's Middleweight tourny.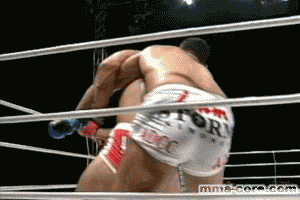 Kazushi Sakuraba  vs. Melvin Manhoef
Sakuraba (seen breaking Renzo Gracie's arm) is, of course, THE legend of Japanese MMA. But he hasn't really been a top fighter since 2001 and there's legitimate concern that Dutch kickboxer Manhoef could do serious injury to the aging Sakuraba in this match.
However, Manhoef's grappling skills are as suspect as Sakuraba's concern for his own personal safety so this one could go either way. Manhoef is an alternate for Sakuraba's fellow legend Kiyoshi Tamura who had a broken hand and couldn't continue in the tournament. Sakuraba strolled to the second round by beating MMA noob Andrews Nakahara in the opening. Manhoef beat PRIDE Dae Won Kim at DREAM 3 to punch his ticket.  Sherdog has a good write up of this fight.
Gegard Mousasi  vs. Dong Sik Yoon
Mousasi shocked the world (or at least the editors of MMA Weekly) at DREAM 2 when he beat Denis Kang with a triangle choke. Now he's got to get past the world's toughest 4-4 fighter, Dong Sik Yoon. Yoon, considered by many to be the greatest judoka to never compete in the Olympics, has wins over two of his fellow quarter-finalists -- Manhoef and Galesic. My bet is he'll add Mousasi to his victim's list.
Ronaldo "Jacare" Souza  vs. Jason "Mayhem" Miller
Here's a battle of the internet super-stars. Jacare, the BJJ phenom, compiled a respectable MMA resume in Brazilian promotions before moving up to DREAM. He claims to have weighed and declined offers from Affliction and EliteXC before taking the "much more lucrative" offer from DREAM. He beat National university freestyle wrestling champion (and MMA virgin) Ian Murphy in the opening round and now he gets Mayhem.
Miller is everyone's favorite MMA funnyman and a well-rounded veteran fighter. He's a perpetually top 20 fighter who's never quite managed to break into the top 10, despite owning wins over Robbie Lawler and Denis Kang. Jacare strikes me as a bad matchup for Mayhem. Miller's tough as nails and decent standing but his BJJ has always been his bread and butter and that's not where he's going to want to fight Souza. The guys who've beaten Miller -- GSP, Frank Trigg -- dominated him on the ground. I expect Jacare to do the same. Either way, this is the most compelling matchup on the card.
Zelg Galesic  vs. Taiei Kin
Not only does this fight feature two fighters I barely care about, it's a rematch. Blech. Kin is a pretty one dimensional striker from a karate background who somehow gritted out a decision over MMA and proresu legend Ikuhisa Minowa in the opening round. Galesic was building up a nice rep in England as the "Little Cro Cop" before going to Japan and enduring back-to-back losses to Makoto Takimoto and Dong Sik Yoon. He beat fellow Euro striker Magomed Sultanakhmedov in the first round of the tourny. I expect him to beat Kin handily here.

I've put most all the fights from the opening round in the extended entry plus Dong Sik Yoon's victories over Galesic and Manhoef. Enjoy.
Kazushi Sakuraba vs. Andrews Nakahara DREAM 2



Ronaldo "Jacaré"  Souza vs. Ian Murphy DREAM 2



Denis Kang vs Gegard Mousasi DREAM 2



Magomed Sultanakhmedov vs. Zelg Galesic DREAM 2




Melvin Manhoef v Dae Won Kim DREAM 3
Jason Mayhem Miller vs Katsuyori Shibata DREAM 3
Dong Sik Yoon vs. Melvin Manhoef, K-1 HERO's - DYNAMITE USA
Dong Sik Yoon VS Zelg Galesic K-1 HERO's - Tournament Final



Get the latest gear