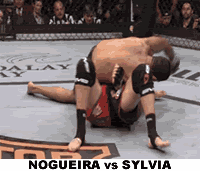 | Fighter | Points | Last Time (Rank) |
| --- | --- | --- |
| 1. Fedor Emelianenko | 28.88 | 29.67 (1) |
| 2. Antonio Rodrigo Noguiera | 26.13 | 24.17 (3) |
| 3. Randy Couture | 26 | 27.17 (2) |
| 4. Fabricio Werdum | 13.88 | 4.33 (10) |
| 5. Tim Sylvia | 13.63 | 17.33 (5) |
| 6. Andrei Arlovski | 13.25 | 13 (6) |
| 7. Josh Barnett | 10.25 | 7.67 (8) |
| 8. Cheick Kongo | 9.38 | 7.67 (9) |
| 9. Gabriel Gonzaga | 9.13 | 17.67 (4) |
| 10. Mirko Filipovic | 7 | 9.33 (7) |
| 11. Aleksander Emelianenko | 3.38 | 1.67 (11) |
| 12. Ben Rothwell | 1.63 | 1.17 (12) |
| 13. Brandon Vera | 1 | NA |
| 14. Sergei Kharitonov | 1 | 1 (13) |
So here's our final installment of the Bloody Elbow Meta-Rankings ("The Only Rankings That Matter") for February. There have been some big changes since the January installment. Ironically very few of those have to do with the UFC interim championship fight which caused Big Nog to jump pass Randy (but not my much) but left Tim Sylvia still at #5 (albeit lower rated).
No it was the Fabricio Werdum beatdown of Gabe Gonzaga at UFC 80 that really messed things up. Gonzaga was cruising at #4 and had he beat Werdum was likely to get the first crack at Big Nog's belt. Instead Werdum won, barely moved past Tim Sylvia (people remember his weak showing against Arlovski) and instead of fighting for the title, will be fighting Brandon Vera instead (Vera snuck into a couple fan-ranked top tens and makes the bottom of the list). Otherwise it's a pretty static.
Ranked fighters throwing down in March are: Andrei Arlovski who'll be fighting undefeated prospect Jake O'Brien at Saturday's UFC. This is Arlovski's last fight on his UFC contract, it won't be broadcast and we can only speculate on what's next for Belorussia's top export. Cheick Kongo will also be fighting on Saturday's card, against the veteran Heath Herring. That's a fight most commenters are assuming Kongo will lose, leaving the UFC with even fewer title challengers than they have now. Josh Barnett will return to action on the 15th against Hidehiko Yoshida at the new World Victory Road's Sengoku event. Mirko Cro Cop Filipovic is expected to return to action at DREAM's first event but no opponent has been named. A loss for either fighter will push them down the rankings, and in Cro Cop's case, maybe off the list completely.
With the loss of Cro Cop the UFC is left with just 7 of these 14 fighters under contract -- and if Arlovski doesn't resign, they're down to 6. WVR has Barnett, DREAM has Cro Cop (and possibly Fedor for a fight or two), Rothwell has left the IFL but his next move is unknown to me. Kharitonov was rumored to be fighting for WVR but I haven't heard anymore about that lately. Aleksander Emelianenko fought last for HCF but I haven't heard what's next for him.
Lot of wasted talent in this division. I hope DREAM or Sengoku will step up and fill the void left by PRIDE's commitment to fielding the best heavyweight fights. (Shout out to BE reader Dennis Nolasco who found a bunch more rankings that we'll be including next month.) Rankings are explained in the extended entry.
Rankings are based on an average of 8 Media Rankings (MMA Weekly, Sherdog, Irish Whip, Cage Potato, Inside MMA, 411 Mania, MMA on Tap, and 5 oz of Pain), Fan Rankings (represented by MMA HQ and MMA Playground) and Computer Rankings (represented by Fight Matrix). If we missed a good ranking someone is doing let us know, we'll add them to the mix. Particularly other computerized or fan vote rankings.
A #1 vote is worth 10 points, #2 is 9 points and so on. Media rankings are totaled and divided by 8 to represent the average media ranking, this is then added to the computer and fan ranking points to create the total (perfect score is 30 points). Thanks to Brent Brookhouse for doing all the math work on this.
Get the latest gear