It was a month full of WMMA action, and you have no idea how happy it makes me that most of them have fight footage.
By far the most noteworthy,
135lbs: Holly Holm def. Juliana Werner via 5th round TKO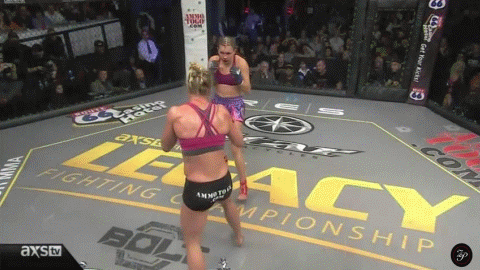 Holm fought with a fractured left arm.
*
145lbs: Marina Shafir def. Chandra Engel via 1st round submission
Click here for the full fight
Unless Shafir fights someone like Coenen, Gomes, Budd next, everyone she fights next will be expected to lose. Her opponent had absolutely nothing. And to make things worse Engel immediately decides to clinch up with Shafir and if it wasn't for the ropes, this might've been over even quicker. Most interesting, in the 'click here' I posted above, Shafir revealed she'd be willing to fight Cyborg in one and half years. In those 18 months, if I were Shafir, I'd be hyping this fight up like no tomorrow and training a Cain Velasquez-type style exclusively.
*
105lbs: #3 Seo Hee Ham def. Shino Van Hoose via unanimous decision

Van Hoose hadn't fought in two years and was facing the #3 atomweight, Seo Hee Ham. She fought valiantly, and showed much improvement. Ham showed a new element to her game with the use of takedowns and submissions. Promotions seriously have to stop with this two round nonsense.
*
115lbs: Angela Hill def. Stephanie Skinner via 2nd round TKO
near the end of the fight (very poor quality)
This is significant because Hill, who sports a 14-0 amateur Muay Thai record and 1-0 as a pro, went into this fight 0-0 in MMA. She planned to try out for TUF 20, but if she lost this fight she would not have qualified to try-out. She won and it'll be a nice story, something that will help her cause against the talented and experienced fighters trying out. As far as MMA striking goes, she's already near the top at 115lbs, despite her lack of MMA experience.
135lbs: Larissa Pacheco def. Lizianne Silveira Da Conceicao via 3rd round submission to defend her Jungle Fight title
**UFC Watch** Pacheco should be signed to the UFC anytime now. With so many UFC cards in Brazil, and just in general... the women's bantamweight division could use a young, exciting prospect like Pacheco. Pacheco is 19!
*
For more thoughts on Holm/Werner, Ham/VanHoose and Pacheco/Lizianne check out what I posted when I was blocked out in China
*
115lbs: Kalindra Faria def. Sanja Sucevic via unanimous decision
It was pretty hard to miss the size difference. Faria looked like a giant compared to Sucevic. There's no way Sucevic is 5 ft 5 if Faria is also (listed as) 5 ft 5.

It was quite close on the feet with Sucevic even getting the better of Faria at times, but Faria's ability to mix in takedowns, then pass guard, attempt armbars and ground strike was too much.

Each round Faria was able to achieve mount and rained down punches and elbows, and had a near armbar in the first. Sucevic once again proved her gameness by surviving a deep armbar, and seemingly was unaffected by the fight as she immediately got up after the fight and congratulated Faria. Then, she proceeded to do an "X" pose, I guess that's the symbol for XFC, with Faria for the camera. Huge fan of both.

Yet, I would have been okay with scores ranging from 30-24 to 30-27, at the least. Round 2 I definitely scored it a 10-8. Round 1, also could have been a 10-8.

My favorite moment of the fight. The ref had called for more action, Faria postures up and DP's (dynamically passes, punching while passing) into knee on belly, slides to mount and immediately starts throwing elbows and punches.
135lbs: Agnieszka Niedzwiedz def. Gemma Hewitt via 1st round submission
Niedzwiedz absolutely handled Hewitt. I don't think Hewitt had a single moment of offense.

Hewitt looked to be getting back to her feet/going for a takedown, when Niedzwiedz sat into a triangle from a sprawl position and from their she got mount, attacked with elbows and punches, eventually getting the tap.

Niedzwiedz is 19!
115lbs: Brianna VanBuren def. Katie Casmir via 1st round TKO
This is pretty much the nature of WMMA. Established fighter fights whoever is willing. Van Buren crushed Katie Casmir. It's kind of awkward to see fighters with short legs throw kicks (even guys like Matt Serra, Joseph Benavidez), but Van Buren got the job done. Finishing punching combinations with a 4 ft 11, 115lbs left body kick as well as landing a side kick.

Her nickname, "Tha Bull", fits very well... I couldn't stop thinking that she really does fight like a bull. I say this in every WMMA article, but Invicta we need you. These girls need to fight girls on their own level. Invicta 8 in June, I'm praying this is true.

I hope Van Buren can make the cut to 105lbs, cause at 4 ft 11... I mean, a Joanne Calderwood knee to the body would sail right over her head.
125lbs: #6 Atomweight Lacey Schuckman def. Melissa Meyers via 1st round submission
Great to see Schuckman back in action. You may recall, back at Invicta FC 3 (!) she took current atomweight champion, Michelle Waterson to a razor-thin split decision. Yes, I thought Waterson deserved the nod, but Schuckman showed she's a top level atomweight and it's just nice to see her stay active even two weight classes above.

Schuckman hit a tai otoshi/body drop throw at about 1:58
110lbs: Iman Darabi def. Veera Nykanen
Only fight with no video This is the first time I've wrote about Darabi. She is a 21 year old prospect fighting out of Sweden. I have her as the #23 best atomweight in the world.

She is scrappy and persistent on the feet, utilizing good technique. However, she is a grappler and is more comfortable on the ground. She stays active, looking to pass guard, land strikes and can fight for 3 rounds.

I'm looking forward to watching her move up the atomweight ranks, in this quickly developing division.

I really enjoyed her MMA debut, as I was expecting a grinding decision
*
As you can see there's quite a few fights to watch. This is going to become the norm for WMMA. Look for more weekly previews and recaps of weekend action instead of monthly overload of information. It'll also let me highlight certain fights and fighters a little more.
You can follow me on Twitter | Facebook | Tumblr (NSFW sometimes) for the most current WMMA info.
For Bloody Elbow's WMMA top 15 go here, and my extended ranking up to 25 go here