Yes, this was Muay Thai and not MMA, but it was still a sight to see Cyborg for the first time in her combat sports career unable to impose her will on an opponent.
Man, was I ever wrong. I predicted Cyborg would close the distance and unload hooks on Baars, who from what I watched some past fights, did not do the things that made her so successful tonight. A stinging jab, a right teep/front kick to the face and a well-timed knee when Cyborg would attempt to bull rush with an over hand right.
Here's some gifs courtesy of ZombieProphet
One instance of Baars using her kicks like a fighter with the reach advantage should, rocking Cyborg, I believe for the first time in any sanctioned fight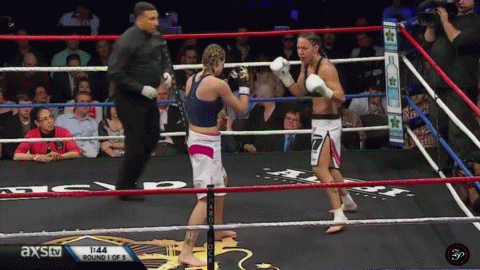 Baars lands a thunderous right knee as Cyborg gets ready to throw a lead right (this was not ruled a knockdown)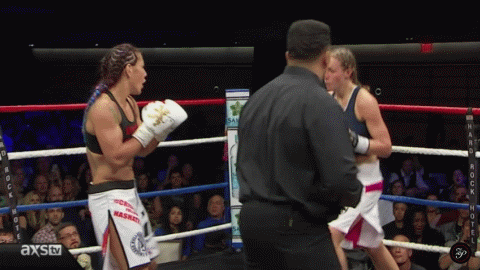 The referee 'makes up' for his mistake in the 3rd round by ruling this sequence a knockdown in the 5th and final round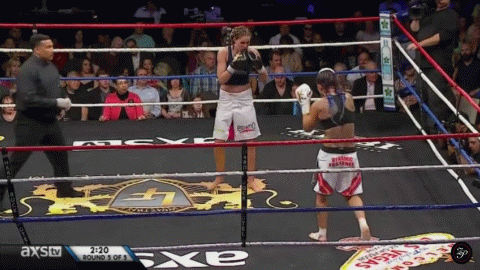 Jorina Baars defeats Cris Cyborg Santos via unanimous decision (49-45, 48-45, 49-44).
Although the scorecards are lopsided, Cyborg was competitive every single round. This is easily one of the best fights in female combat sports history. And this isn't MMA, but it's a fantastic fight worth watching. I was having flashbacks to Aerts-Schilt in 2010. The only other time Cyborg was "tested" was against Gina Carano and this fight with Baars is infinitely more competitive.
"She's had eight belts and 38 fights, zero (losses). She's never lost. I have two fights in Muay Thai." said Cyborg But, good lord, was this fight ever exciting. I respect Cyborg and Baars so damn much after this fight, and I already respected Cyborg a ton, and Baars is a bad, bad woman. Here's some more quotes from Cyborg and Baars via MMAFighting
Cyborg:
"The first round I said, okay, I can lose this fight. But I fought hard, I was ready for a war."
"No girl wants to fight [Baars]. She hasn't fought in three years."
"I know she's experienced, but I tried. I tried and I trained, because I love fighting. This is what I love. I love being inside the ring."
"I'm so happy. I want to fight again. I never choose my opponents, and I think a true fighter never chooses opponents. You have to be ready for everybody."
Baars:
"I'm a Muay Thai fighter. She's an MMA fighter. I will beat her. That's every opponent, I will beat them. It's my sport. It's my style."
"The gameplan was to put Cris in my range and stick with the knees, and when she comes in, put a knee up or a kick push attempt in her face. It worked."
"She is strong and she has power, but it's not the hardest punch I've gotten hit with."
Here are the rest of the results from Lion Fight 14 via Liver Kick
Gregory Choplin (164 lbs.) (R5 - Dec.) Marco Pique (162 lbs.) - Super Middleweight division
Shane Oblonsky (145 lbs.) (R5 - Dec.) Malaipet (143 lbs.) – Welterweight division
Eddie Abasolo (154 lbs.) (R5 - Dec.) Jonathon Wyderko (153 lbs.) – Middleweight division
Victor Saravia (121 lbs.) (R3 - TKO) Anthony Castrejon (123 lbs.) – Featherweight division
Gaston Bolanos (142.5 lbs) (R4 - TKO) Brian Del Rosario (142.5 lbs.) – Welterweight division