There's nothing significant this first week of January in WMMA. Promoters are probably taking a little time off for Christmas and New Years. Here are some fighters that would have been wise to watch what they were eating during the break.
Jan. 11 - Disorderly Conduct
Correction: Looks like it's at 155lbs not 165lbs
Jozette Cotton vs. Jessica Halverson
This is a first in the short time I've been doing these write ups (about 5 months) that I've featured someone above featherweight, but...this is relevant to me. Jozette Cotton aka The #1 HeadBusta (stylized as such) is a monster. There is no light at the end of the tunnel for these higher weight classes, yet, but Cotton can fight. Knockout power in her hands and a decent wrestling game to boot. The only other 145+ girl I follow is Amanda Lucas (aka George Lucas' non-biological daughter), but Cotton is worth watching if you like violence.
I don't think we'll see an appeal until a "beautiful" woman starts shooting up the ranks like a Ronda Rousey or Gina Carano. And you know that woman gonna be a whole lot of woman. Cotton probably won't be that breakthrough star, and I don't know how people will react. Will there be "inadequacy" problems watching a women of Cotton's size and stature? Or is it just plain not aesthetically pleasing?
Jan. 11 - DFC Winterbrawl
115lbs Strawweight
Amber Stautzenberger vs. Lynn Alvarez
I've been seeing a lot of buzz for Stautzenberger on Twitter. People and professional fighters tweeting that she should be on TUF as well as some other people that write about WMMA, that have her as someone that'd be right for TUF. Personally, I don't get it. Is it cause of her looks? Do people think she's a promising prospect? I haven't been able to catch her latest fight, but I've seen 3 of her fights, and I don't feel she deserves to be in the TUF house at all. She isn't terribly athletic, fast, powerful or technical. Hasn't really beat anyone at 115 (she did fight Paige Van Zant and Tecia Torres before, losing decisions). Anyways, just thought I'd bring her up as we might see her on TUF.
p.s. Lynn Alvarez has no relation to Eddie Alvarez
Jan. 18 - WSOF 8
#1 Jessica Aguilar vs. #10 Alida Gray
This really is a lose-lose fight for Aguilar whereas this is a WIN-WIN for Gray. Just like when Alida Gray made her debut against a veteran like Patricia Vidonic, there's really no pressure for her to perform, while the weight on Aguilar's shoulders is quite vast I would imagine. Coming off as the "villain" after two controversial fights for two different reasons that I won't get into against the beloved and cherished Megumi Fujii. Not to mention one of the strangest fights I've ever seen with her and Vidonic in Bellator.
Here's what I had to say about Alida Gray about two months ago:
"Although she is 36 years-young, Gray does not show signs of wear and tear due to her relative late start to MMA. She has shown aggressive striking on the feet and on the ground, posturing up to throw ground and pound with visible intent to do damage.. She was able to Judo trip Vidonic, and hit a nice Judo trip reversal in her 2nd pro fight. Although she was not subbed, carelessness in anyone's guard could spell trouble for her in the future. If Gray can continue winning in impressive fashion, she could see a leave from the regional scene very soon"
End quote. Now I know, she was a Judo Olympic alternate for USA in 1996, which explains the frequency and efficiency I see her throwing and tripping opponents.
*
photo of Venter permitted by Santa-Marie' Venter
Jan. 18 - FNP: South Africa vs. USA
135lbs Bantamweight
Santa-Marie' Venter vs. Maddy Simmons
Another surgeon has entered MMA. The most famous one being, recently released UFC fighter, Rosi Sexton. And just as she exits a new surgeon is here. Santa-Marie' Venter is a 31 year old surgeon turned MMA fighter... as she puts it in this interview:
I did specialize in orthopaedic surgery for 3 years. Due to various reasons, I decided to postpone my specialization. I am one year and one exam away from having my Masters Degree in orthopaedic surgery. I still have surgery lists 3 times a week where I work with one of my friends who is a qualified orthopaedic surgeon.
I don't know much about her. The single fight I saw from her saw her use some karate footwork (she does come from a Karate background, and has "more than 500 karate fights") and a few nice punching combinations. Regardless of how she does, this is can only be seen as a good thing for the MMA naysayers when someone with a highly regarded profession, such as Venter's enters into this "barbaric" sport.
A day in the life of Santa-Marie' Venter (goes without saying... she has a badass, badass, badass name and if she can gain any ground in MMA, her mixture of looks and brains would be HUGE for her career):
I train at 6 a.m. three times a week and 6 p.m. four times a week. I work from 8:00 to 17:00, and I'm currently busy with a Masters degree in sports Medicine as well as my LLB degree (Law). And I still have time to socialize with my friends, see my family and watch TV from the comfort of my couch! I meditate daily and do a fair amount of reading to nurture my spiritual needs.
Jan. 18 - Rogue Fights
115lbs Strawweight
#11 Patricia Vidonic vs. Brianna van Buren
This is a very winnable fight for van Burren, and could seriously shoot her up the rankings. Her only loss in ammy and pro is to current XFC Champ Stephanie Eggink, who has a a 9 inch height advantage by the way. I've come to know a Vidonic fight always involves her on her back at least once in the fight, and I think that van Burren can do that for 3 rounds. Vidonic does attack and stifle opponents in her guard, but she doesn't do quite enough, and if she isn't attacking with a sub or hitting a sweep, I'd like to see her get back to her feet instead. Intriguing fight.
*
Jan. 24 - RFA 12 (airs on AXS TV)
115lbs Strawweight
Justine Kish vs. Randa Markos Thomas
Absolutely love that Kish is moving down to 115lbs. I know she knows 115 is gonna be gigantic in about 5 months time. Very exciting. Markos Thomas I have not been able to find muc fight footage of her. There was this interview she did with some kid (I'm talking like prepubescent). But, she is 3-0, and is an unknown for most, but is already familiar with the cut to 115. She also has been wrestling since high school, which is quite rare for females, and could definitely give Kish troubles. I absolutely will be tuning into this fight. The winner (or both depending on how the fight plays out) might just be seen on TUF: Strawweights.
Don't forget you can watch this on AXS TV live!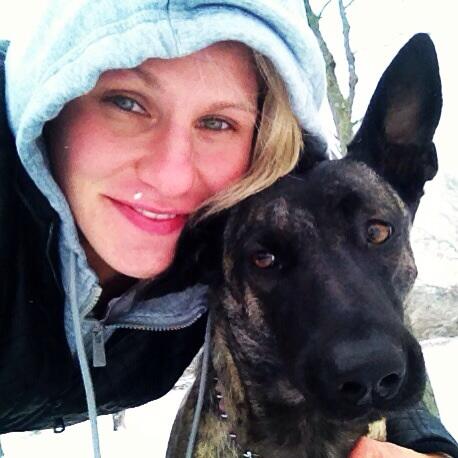 Kish and some dog
*
I can be reached @ErikssonLau on twitter or google WMMAnalyze
and if you have not
Cast your vote in the BE WMMA Awards