World of WMMA: Who to Watch September
Few people know WMMA names other than the Rondas and Caranos. Great sites and people, such as Robert Sergent/MMARising and Wombat Sports, do a fantastic job covering and reporting the sport, but simply put is information overload for the new WMMA fan. The casual fan has no guidelines as who is relevant, and who is not.
SO,
This write up is my attempt to separate the relevant and the not so relevant in WMMA on an approximately month-to-month basis…
September Edition - Decided not to do UFC since it's much easier to find... except

ULTIMATE FIGHTER SEPT. 4 … check your local listings
house full of some of the best females, including Shayna Baszler and Jessamyn Duke… getting into the house spoilers here.
This scarce middle of September is made up for with the first episode of the first inter-gender TUF. 8 Invicta level fights. And since these girls aren't techincally in IN the UFC yet. Personally, this is the excitement to a TUF season since Rampage/Rashad/Kimbo/Titties... a time where Shogun was champ. Man...
Sept. 6 – XFC 25 on AXS TV (formerly HDNET)
115 Strawweight
Stephanie Eggink (3-1) vs. Angela Magana (11-5)
You may have seen Eggink in a highlight of sorts getting KTFO by Kaline Meideros in 7 seconds. However, she is actually a rangy striker that is decent at using her length with a ground game full of sweeps and sub attempts. She defeated Heather Clark, a girl I was really high on, at XFC 21. Magana has been in some tough fights, including a split win over current Flyweight Invicta Champ, Barb Honchak, and a trilogy of fights with Jessica Aguilar. Magana lost one by armbar, one by sub (blood in the eye) and won a majority decision in the 3rd match. It will be interesting to see how Magana does with a sustained run at 115lbs.
Also airing on this card:
Sept. 6 – Angelica Chavez/Stephanie Skinner – AXS TV – 105lbs
Not overly relevant, but at atomweight a few wins gets you further than most. Chavez most high profile bout was a lost to Nicdali Rivera-Calanoc in Invicta. If this didn't happen to be on the same card as Eggink/Magana, I don't think I would have mentioned it at all.
Sept. 13 – Legacy FC 23 on AXS TV (formerly HDNET)
105 Atomweight
Paulina Granados (2-0) vs. Tessa Simpson (2-1)
Pretty sure, Granados (decent fighter and good looks), is the selling point for Legacy, but I'm more interested in seeing Simpson. She was 2-0 before losing to a much larger fighter and after 4 years makes her return at atomweight. Sidenote: Granados' nickname, "FiReFox" (stylized as such) makes one cringe.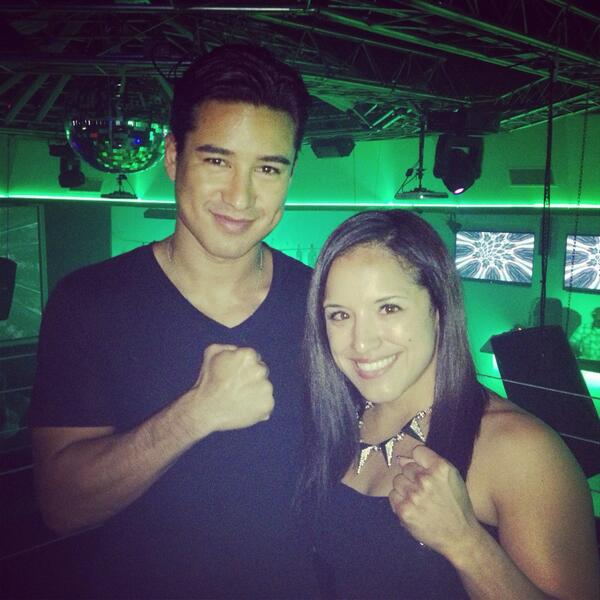 Paulina Granados with Mario Lopez

Sept. 28 – KSW 24
115 Strawweight
Karolina Kowalkiewicz (3-0) vs. Jasminka Cive (5-1)
Poland has been a new player in the MMA game for a while with KSW. But, it's real breakthrough has been with its women, quickly developing a few prospects [http://wmmanally.tumblr.com/post/53610585862/poland-a-new-wmma-scene-hardcore-mma-fans-have] , such as KK. Cive is coming get destroyed by Bec Hyatt after a lot of trash talk, and frankly despite her nickname "impressive", I expect her to be unimpressive and finished.
Love this poster
Sept. 29 – Pancrase 252 airs on UStream.tv for $10 Dollars
135 Bantamweight
#15 Rin Nakai (14-0-1) vs. Tara LaRosa (21-3)
I'm gonna take this matchup as a sign LaRosa did not make it into the TUF house. And frankly, I'm not the least bit surprised. This is a chance for Rin Nakai to get the biggest name win of her career and perhaps start knocking on Western promotions doors. But… that would really shock me.
Check out some Rin's latest and finest work with Pancrase over in Japan
http://www.youtube.com/watch?v=j45gg6rm7SE
Other:
#10 Joanna Jedrzejczyk (almost spelt it without looking) fights Lisa Schewe in a Muay Thai bout on September 7th in Leverkusen, Germany. I know this means WMMA girls aren't getting enough fights, but I'd love to see some UFC fighters do this too (yes, I know guys like Benson Henderson do grappling competitions), but I guess they don't absolutely need the money.
Please let me know if I have missed anything of significance, in a sparse month… doing these reports is making me realize WMMA still has a long way to go
Check out the August Recap here
Check out the Who to watch August here
.
.
Eriksson can also be found on Twitter