mmathinktank.com

UFC Should Reconsider Plans For 115 lb Division July 27, 2012 Editorials Leave a Comment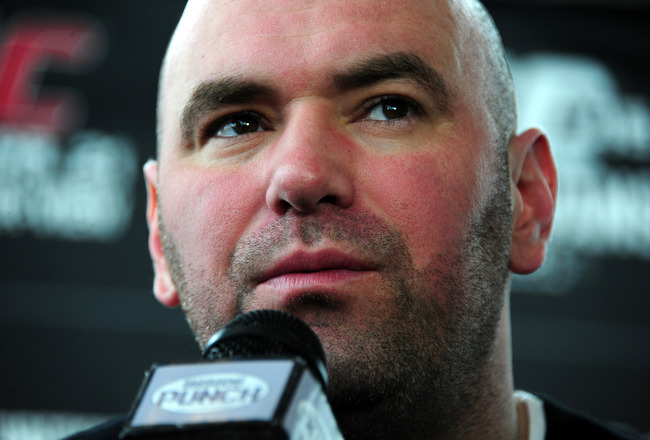 On Thursdays pre-fight news conference for UFC 149 in Calgary, Alberta, Canada Dana White was asked by a reporter about the possibility of eventually forming a Cruiserweight Division for fighters who are too big for 205 lbs and too small for the 265 heavyweight limit.
Dana, always trying to keep everyone off-balance countered by saying in fact the cruiserweight division is not even being discussed, but instead if any division will be formed it will be at 115 lbs. There is no name for this proposed division at this time.
I seriously hope that Dana is not planning on doing this any time soon. The 125 lb (flyweight) is still in its infant stages and only has 14 fighters in its ranks. Out of those 14 fighters, 10 of them have two or less fights in the UFC. We don't even have a flyweight champion yet. Demetrious Johnson and Joseph Benavides will meet to see who the inaugural flyweight champion will be on September 22, 2012 at UFC 152.
I strongly feel that it is in the UFC's best interest to try to build the flyweights and bantamweights before even considering a 115 lb class. I personally like watching the lighter fighters because of their high skill level and speed, but there are still a lot of fans who have not come around to the idea of the smaller guys headlining big cards. Most fans like to see the big guys who can end the fight with one punch, kick, elbow, or slam. I like that too, but I also can appreciate the smaller fighters skill sets.
I can understand the UFC's thought process, that if they did have this new division a lot of the fighters will be from Asia and South America. These are two area's of the world that the UFC is trying to win fans. I just feel the UFC has to be very careful not to over saturate fans with a watered down roster. I think 125 lbs should be the lightest we see fighters compete in a high level MMA organization at least for quite some time. The UFC has recently added two fighters to the Flyweight division. They are Ulysses Gomez (9-2) and John Moraga (10-1). These are two solid additions and they will be fighting each other on the UFC on Fox: Shogun vs Vera card on August 4, 2012. I have a lot of confidence that in two years time the flyweight division will be a stacked one. These smaller organizations, like Tachi Palace for example are doing a great job in preparing younger and smaller fighters so that when they get the call from the big show they are ready to perform at a high level.
As far as the option of a Cruiserweight division being formed in between the 205 lb and 265 lb weight limit I think it is something that should garner serious consideration by not only the UFC, but all of MMA to help certain fighters compete at a weight that is much more satisfactory for their body types. This can only create more even matches with fighters that are in the best possible shape they can be in.
I am aware I am in no position to question the thought process and decision-making of the higher-ups in the UFC but every now and then you hear an idea that just doesn't sound like it will work and this was one of those instances.