Hey chaps, just a little piece in the last few days before the big return to the Land of the Rising Sun! Once again, hope you don't mind clicking the link to HKL, it is a sister site and it's full of great content.
Cheers,
Jack

At UFC 144 two big men with KO power will meet in the heavyweight tilt between New Zealand's own, Mark Hunt, and the French Muay Thai practitioner, Cheick Kongo. While Mark Hunt has won the K-1 Grand Prix, the highest title in the world of competitive striking, his technical skill is often overshadowed by the fact that it was largely his physical attributes which won him this title. Hunt only succeeded in getting to the tournament final by injuring Ray Sefo's eye in a losing effort against Sefo in the semi finals, drawing his fellow Kiwi into a brawl because he could not deal with Sefo's superior technical kickboxing. Cheick Kongo, on the other hand, receives enormous credit for his string of kickboxing titles despite a complete absence of any verifiable kickboxing record. Kongo was once, though it is hard to believe now, in serious title contention in the UFC, after picking up 3 solid TKO wins through 2008 - 2009 before meeting Cain Velasquez and being taken down seemingly at will en route to a unanimous decision loss.
It is hoped that this fight will remain standing, in which case it is important to consider the strengths of each man in that domain. Hunt's abilities are well known - he has one of the most solid chins in the history of combat sports. In his career he has taken Cro Cop's high kick flush on the jaw, and the strongest blows from Ray Sefo, Mike Bernardo and Jerome Le Banner. Hunt has mixed it up with the best kickboxers in the world and come out with mixed results, but has been knocked out cold only once, in an MMA match against Melvin Manhoef, perhaps the biggest puncher, pound for pound in the world. Hunt also holds a thunderous punch - being able to knock out the iron jawed Jerome Le Banner, and break the orbital bone of Ray Sefo.
Once Hunt entered MMA, his career was perhaps the worst nurtured of any prospect, meeting Hidehiko Yoshida, Dan Bobish, Wanderlei Silva and Mirko Cro Cop in his first four fights. Somehow managing, with a complete absence of MMA experience, to get the better of the latter three. Clearly Hunt fights best against strikers, Cro Cop and Silva being the two highest profile strikers in MMA at the time. But his matches against Josh Barnett, Fedor Emelianenko, Alistair Overeem and Sean McCorkle exposed his woefully inadequate takedown and submission defense. Since his loss to McCorkle in his UFC debut, however, Hunt has experienced a career renaissance - developing the takedown defense to repeatedly stuff Brock Lesnar's training partner, Chris Tuchscherer en route to a walk-away uppercut knockout during a sprawl. Hunt continued his improvement, out grappling veteran Ben Rothwell, and brutalizing him on both the feet and the floor. While Rothwell is no master of the ground game or of takedowns, he is certainly a better wrestler than Kongo, and will make Kongo's night long if he is forced to revert to his wrestling strategy.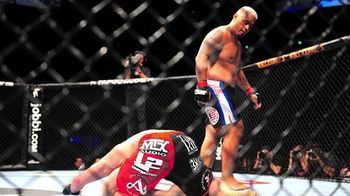 Hunt has, however, been prone to eating too many shots due to his great chin's allowing him to. In a way reminiscent of Chuck Liddell, who could not learn to keep his hands up even when working with Howard Davis Jr., Hunt may be too stuck in his ways to learn to keep his hands up. It was this fault which got him knocked out by Manhoef and stunned by Gegard Mousasi, who is not known as a hard puncher.