EXCLUSIVE
Posted December 14, 2012 at 05:00 | Updated at 9:43
Georges St-Pierre against
Nick Diaz
is in your pocket!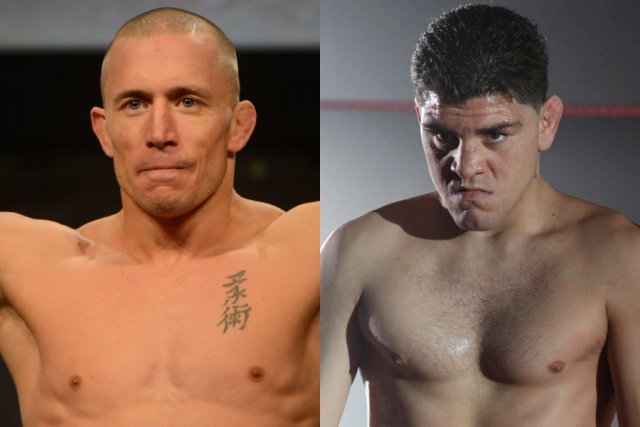 Georges St-Pierre will face American Nick Diaz on March 16 at the Bell Centre.
PHOTOS: PRESS AND AP
Press has learned that indeed this duel is in your pocket. The managers of both fighters confirmed Thursday they gave the green light to the deal. The UFC will make an announcement tomorrow night in Las Vegas, which will host the final of the 16th season of The Ultimate Fighter, which will assist the veteran Quebec.
By late evening, La Presse has joined manager Nick Diaz in California. Cesar Gracie took the time during the day to review the contract with the client. "We signed it 20 minutes ago! he announced. I just sent a text message to Dana White [UFC president] saying that the fight was signed. And I'll just send the contract by fax. "
"This is amazing, I've never been to Montreal before and I'm excited. Nick is also super excited, said Gracie. He expects this fight long and provides a good battle. "
"This will be the main fight" at UFC 158, has insisted Gracie, who made a point of honor to any negotiation.
"If Nick Diaz accepted this fight will be a formality for us, meanwhile said Thursday evening the manager of GSP, Rodolphe Beaulieu.George is happy with the idea of ​​fighting in Montreal, but he was ready to go anywhere to face Diaz. "
After winning his comeback fight on November 17th, poles were launched for Georges St-Pierre faces Anderson Silva in a mega fight. The Brazilian was open. But St-Pierre has expressed reservations about the weight difference, Silva UFC champion at 185 pounds, while Montrealers is 170 pounds.
The fight against Nick Diaz is clearly one wanted St-Pierre. The big boss of the UFC, Dana White, has also said this week that "George has personally requested the fight against Diaz."
A moth named Diaz
The duel between St-Pierre (23-2) and Diaz (28-6-1) will not be hard to sell to fans. In addition to being a good fighter, American Nick Diaz is a great speaker and has prevailed in the past against St-Pierre. As an example, the latest tweets from Twitter back to Diaz on November 17.Immediately after the victory against St-Pierre Carlos Condit, he wrote to his 90,000 followers: "I am not impressed by your performance, Georges St-Pierre."
The statement was smiling the native of St-Isidore, since Diaz has lost his last fight against the same Condit, a unanimous decision last February. In the wake of his defeat, he also had a positive test for cannabinoids accompanied by a one-year suspension. The fight against St-Pierre will therefore represent his comeback.
Both athletes do not like much. "It's the most disrespectful human being I know," said St-Pierre has about Diaz.
Diaz and St-Pierre first had to meet at UFC 137 in October 2011, in Las Vegas. But Nick Diaz did not attend a press conference Dana White was furious, replaced by Condit. The Quebecers, however, injured in training. His return was finally held on November 17 against Carlos Condit at UFC 154.
Montrealers will also have the opportunity to see Carlos Condit in action in March. The American Canadian Rory MacDonald will face in a rematch on the undercard of the shock Diaz-GSP.
http://www.lapresse.ca/sports/sports-de-combat/201212/13/01-4603781-georges-st-pierre-contre-nick-diaz-cest-dans-la-poche.php