Simple premise to this Fanpost... Who is the most like-able MMA fighter?
Guida is a fighter who loves to fight.  He' a guy who, if mma fighter's only got paid in beer and food, would still probably fight every weekend he could.  He's a fan favorite due to his relentless pace (See: fight vs. Tyson Griffin), never say die attitude (See: Fight vs. Diego Sanchez), and his workman life prior to MMA (King Crab fisherman, Carpenter) as well as his workman life while fighting MMA (living in an RV on an Indian Reservation in NM).  He's the quintessential Blue Collar worker, and he fights the same way.  Watching Guida after his 15 minute brawl with Diego Sanchez, bouncing up and down, ready for another 15 minutes, just goes to show that he loves fighting, and could do it all day if possible.
2. Pat "HD" Barry
Pat Barry does Vegas Strip in tighty whiteys (Pics/Videos)" title="pat barry bum drunk" class="aligncenter size-full wp-image-13467" />
Pat Barry could be a huge star in the UFC.  He has a style of fighting that is very fan friendly, and he has maybe the goofiest personality in all of MMA.  He's a short, stocky Kick-boxer who is more known for taking pictures in just his tighty whities then he is for fighting in the UFC.  He possesses the skill set to win FOTN awards, yet he has been hesitant to show what he can really do, partially due to under performing (see: fight vs. Joey Beltran) or partially due to being a MMA fan (See: Fight vs. Mirko CroCop).  Barry is always joking around, and seem's like he's a legit dude who values his friends (See: Anthony Pettis on MTV).  Hopefully Barry will be able to pull it all together and get a few good wins in a row, so the UFC can really promote him without worrying about having to cut him.
3. Anthony "Showtime" Pettis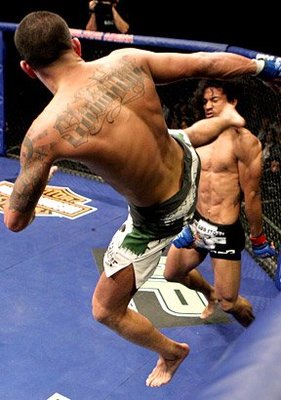 A rising LW prospect in the UFC, Pettis grew to fame after gaining the affection of millions of viewers after appearing on the MTV show World of Jenks.  On the show, Pettis showed the characteristics of a real fan favorite.  A kid who grew up in a bad part of town, Pettis chose Martial Arts over gang life, even after losing his father to a Murder.  Pettis also showed great affection for his family, acting like a father figure to his younger brother, as well as being extremely close to his mother.  Also on the show, Pettis showed his affinity for teaching youth in his original martial art (TKD).  Add all this up, and throw in his extremely flashy fighting style, plus his unique and innovative striking, and you have a superstar in the making.
4. Georges "Rush" St. Pierre
Karo Parisyan, Jay Heiron, Jason Miller, Frank Trigg, Sean Sherk, B.J. Penn (x's 2), Matt Hughes (x'2), Josh Koscheck (x's 2), Matt Serra, Jon Fitch, Thiago Alves, Dan Hardy.... C'mon!  Besides being the best, most complete fighter in MMA today (yea, thats right), GSP is a true ambassador of the sport.  Prior to GSP, the face of the UFC belonged to Chuck Liddell, and that face was drunk more often then not.  With GSP, you get to see a model citizen, and bilingual superstar who is bringing the UFC to the masses through corporate sponsorships and positive imagery.  GSP also earned himself some fans after filming TUF, cast opposite the forever heel in Josh Koscheck.  With the smack talk never ending, GSP refused to engage Kos, simply saying that he'd let his fighting do the talking.  While it might not make for the most exciting TV, it is something that endeared GSP to new and old fans alike.
5. "The California Kid" Urijah Faber
The California Kid.  A big time fan favorite, who always fights at an exciting pace, Urijah Faber embodies the laid back, California attitude that many people idolize.  Whether cornrows in his hair, or his hair all over the place, Faber looks like a someone who would just assume pick up his surf board as he would get in a ring and fight.  But fighting is what he does, and he does it well.  Outside of Mike Brown, Tyson Griffin and current destroyer Jose Aldo, Faber is undefeated in his MMA career, and he utilizes a fan pleasing style.  A wrestler by trade, Faber is just as likely to take you down and pound you out (See: fight vs. Bibano Fernandez)  as he is to choke you out (See: Fights against current champ Dominic Cruz or BJJ Black Belt Jeff Curran), or pumble you on the feet (see: Jens Pulver).  Add to that, his exciting life outside of the ring, his exciting Alpha male team, and his penchant for always having a good time.. its hard not to like "The California Kid".
6. Nick Diaz
Pictures are worth a thousand words, and this picture is all you need to know about Nick Diaz.  Most people either love him or hate him (I'm one of the later), but its his values that set him apart from others.  Nick Diaz values few things, but family, friends, and weed are on top of that list. While many look at his post fight brawl in Nashville as a black eye to the sport, many people overlook the fact that to Nick, it as more important to stand up for his family/friend, then it is to worry about what other people think.   That is loyalty.  And when asked about ever fighting a teammate/brother, Nick responded that it disgusts him to even think about it.  Many camps say that, but I think Nick is one of the few guys who, regardless of how much money is being offered, would never fight a teammate. Plus he's a truly exception athlete Add to his loyalty the fact that he's a hell of a fighter, puts on exciting fights, and is willing to fight almost anyone if the money is right, and you get a fighter with an extremely loyal, intense fan base.
7. Jon "Bones" Jones
Jon "Bones" Jones is the Anti-Nick Diaz. He has already signed on to fight teammate-at-the-time Rashad Evans.  While Diaz professes his love for weed, Jones openly admits to telling on drug dealers in high school.  Just like some people dislike Diaz for his morals, many people will dislike Jones for his holier-than-thou type attitude.  But on the other hand, many people might find it refreshing for someone with Jones exposure to be so openly anti-drug.  It doesn't hurt that with recent destruction over Pride star Shogun Rua, many have labeled Jones as the future of both teh LHW and HW MMA divisions.  Add in his innovative, unduplicatable style, and you have a fighter who is guaranteed to be in the spotlight for a long time.
8. Jose Aldo:
Sorry for leaving him out the first time, somehow I totally forgot about him.  Jose Aldo aka the terminator is a 24 year old, 145 lbs of domination.  He has yet to see an opponent (outside of Luciano Azevedo) who has been able to stop the Brazilian wonderkin.  But what makes Aldo such a fan favorite is his energetic, fun loving attitude.  Win after win, Aldo seems so genuinely excited that you cant help but feel good for the guy.  Besides his killer in ring skill, and his fun loving attitude out side of the cage, anyone that know's Aldo's story can't help but like the guy (like many brazilian fighters, he grew up poor, and worked his ass off to get where he is today)
Final Words:
I know there are plenty of guys I've left out, an everyone has their favorite fighter, but I picked the guys who I think have the strongest fan base around. 
On that note, I decided to leave out the "old guard" so to speak.  Guys like CroCop, Wanderlei, Big Nog, Fedor, Rich Franklin ect... those are all guys who are immensely popular, but are all out their way out of the sport, so I left this poll for guys who have more then a few years left in this sport.