The infamous Guillotine (please don't make an "L" sound while you read that word). It was originally created as a 'humane' decapitation device, used in the execution of thousands unlucky Frenchmen. Boy, the French have it rough. In Brazilian Jiu Jitsu, however, it can be described as a ... well ... 'humane' decapitation device used in the execution of hundreds of unlucky fighters. It is, fortunately, a little less permanent in BJJ.
Let's take a look at some of the best Guillotine's in MMA and some of the guys, who if they caught you in one of their guillotine's, would have you wishing you were in the 1810 version.
First things first ...
What is the guillotine choke? How do you do a guillotine choke? Is it a blood choke, or is it a neck crank? Good questions.
The guillotine choke is one of the most popular BJJ finishing submissions in MMA. Partly, because you can easily get 'caught' trying to advance positions. We've all seen a guy go for a single or double leg takedown and leave his neck out there with no defense (looking like Goldberg's spear from the WCW/NWO days). You also see a lot of guys put someone in their full guard, sit up to the side of the dude on top as if they are looking for a kimura or omoplata, fish their near side arm back over and under the guy's neck. Enough on how people get the submission... how do you do it? It involves using one arm to encircle your opponent's neck, like putting his neck into a guillotine (makes sense), grabbing your encircled arm's wrist with your free hand, and using your back and legs for leverage. You can do it from the standing position, full guard, or if you're the freakin' HULK, from half guard. You can watch this video to get a better idea of how to perform a guillotine choke.
It is a neck crank. It is also a blood choke. It is also an air choke. And most of the time when someone puts you in a guillotine, they won't care which of the three you choose to tap from. So enough science - let's look at some 'hall of fame' guillotine's.
#5 - Jens Pulver: WEC 31 vs. Cub Swanson
If you're looking for a guy who's got a strong guillotine, Jens Pulver might not be one of the first ones to pop in your head. After watching this video of Pulver almost popping off Swanson's head, Jens absolutely got our attention. (You might call this an armless D'arce, but hey...) Pulver might be showing signs of aging, but at WEC 31 he taught this young cub (get it?) a lesson. Why teach an old dog new tricks when the ones he's got are working juuuust fine. Enough puns - just keep that left hand coming Jens Pulver.
#4 - Brian Bowles: WEC 35 vs. Demacio Page

While this isn't as brutal looking as some of the ones that follow, you have to admire the technicality and athleticism Brian Bowles shows off during this choke. Demacio Page is no gimmick. He is ferocious, and he hangs in this choke longer than most mere men could stand. Bowles locked this bad boy in and wasn't letting go. Bowles went on to knock out Miguel Torres for the Bantamweight title, but you gotta love this little gem that got him to the next fight.
#3 - Cody McKenzie: TUF 12 vs. Marc Stevens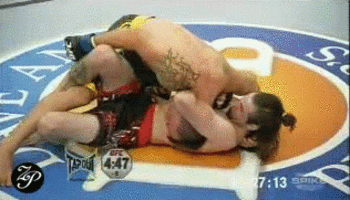 First of all, who doesn't like Cody McKenzie. This kid might not be the sharpest tool in the shed, but he can freakin' put you to sleep with his modified guillotine (You can check out this video of how to do Cody McKenzie's modified guillotine). Plus, you gotta love the 'underdog' story in this fight. Cody was some punk from Alaska, and Marc Stevens the wonder boy on TUF 12. Cody put him to sleep in literally 15 seconds. You can watch the fight here. So Cody definitely makes the "Guillotine Hall of Fame list" for his overall coolness, and his keen ability to slap guillotine's on arrogant opponents. (Darn you Nam Phan for not being arrogant)

At this WEC event, Jorgensen was matched up against Chad George. This is one of those cases where we think the guillotine was used as a blood choke, neck crank, and throat crusher all at the same time. Jorgensen picked George up by his neck and held him against the cage. Admittedly, I'm not an MMA referee, but when a dude's feet start flailing like Chad's did, you probably ought to 'mosey' your way over to stop the fight. At any rate, Jorgensen won and Chad was alright. Props to you buddy - surprised your head's still attached after that guillotine.
#1 - Dan Miller: BRUTAL Guillotine vs. Dave Phillips
I would make fun of the IFL, but Dan Miller might hear me. And my neck isn't as bendy as Dave Phillips'. Watching this submission, the crowd had to think "his capa was detated" (Quote from The Office) and probably expected that guy from Mortal Kombat to come out and grunt "Fatalityyyyy". Here is a video of Dan Miller's guillotine on Dave Phillps. It is not for the 'weak-stomached' among us.
I feel so strongly about this guillotine, that we would like to remind the children and adults reading this that... YOUR NECK 'AINT SUPPOSED TO BEND THAT FAR, SO DON'T TRY THIS AT HOME! This one lives up to its name. He nearly ripped the dude's head off. Lucky for us, Dave Phillips apparently also moonlights as "Stretch Armstrong".  Good guillotine Mr. Dan Miller. Maybe just take it easy on the next one. Humane? Hardly. Effective? Check.
So there's five 'Hall of Fame' guillotine's! Drop us a comment and let us know if we missed some good'uns. Keep rollin' - and for gosh sakes - keep your heads attached.
If you liked this article, read the original with more images and comments at BJJ in MMA.
Did we miss some? Let us know your top "guillotine" in the comments...