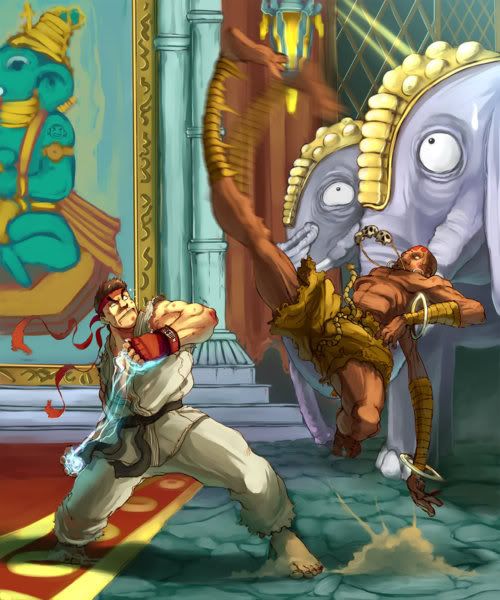 I know I wrote this already, but I wanted to put it out again due to the close proximity of the fight and the fact my sentiments were so closely echoed on the Countdown. Bask in the glory of my previous prognostications.
That's right, I think Ryu has the tools to defeat Dhalsim. Yea yea, "Shogun beat Machida TWICE! Did you not see what Bones did to Shogun?!? Did you not SEE? A carrot! To a BUS!"
Yea, I saw it. I was shrieking "WHAT THE FUCK IS HAPPENING HERE?!?!" As Jones proceeded to crumple my Curatiban Champion like a Diet Pepsi can, my confidence in Shogun's ability to give Jones a Chute Box beating in style along with it. I along with legions of Shogun fans were left clutching our tiny little Chute Shorts, jaws hanging in disbelief. Shogun, already TKO'd, was tapping to strikes, unnecessarily. It's as if he just wanted to show how bad of an asswupping we actually were seeing, in case we weren't picking up on it. How could Machida even stand a chance against a man who so thoroughly decimated the man who decimated him? (Decimated!)
Styles make Fights. And Machida has the Style, Son.
THE DISTANCE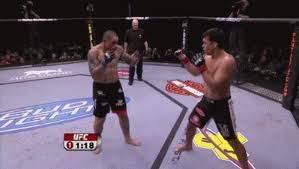 See where he's standing? Just outside of Thiago's range, patiently waiting for a strike to be thrown, a movement to be made. This is where he stands with everyone, controlling the distance like no other. Once his opponent commits, he lunges in with an attack, and is within range of reprisal only while he himself is striking. It will be no different with Jones, as Machida uses his distance and patience to confound the young champion. Jones has been feasting on "In the pocket" fighters, and Machida will be a drastic change of style that Jones will not be able to employ his reach advantage upon so easily.
I have seen the opinion that Machida needs to be more aggressive than usual in order to bring it to Jones, but I say the opposite. He needs to get back to his old, patient ways, and bait Jones into attacking him from further away than he is used to, creating openings for counters. I would be very pleased if Machida did not even throw one aggressive strike for the first 3 rounds, staying away and forcing Jones to come to him every single time. It will make the crowd rain down Boo's, and will make Jones hopefully angry enough to over commit. Once he does, Machida should use his freakish footwork and Broken Rhythm to get inside and unleash a Machida Flurry.
Getting on the inside with success will take away Jones' effective outside range and bait him to grab Machida, which (despite popular opinion) is something Te Dragohn will welcome.
THE SUMO
Do you know who has the highest Takedown Defense percentage in Light Heavyweight? Jon Jones. You know who has the second highest? Machida. You know why?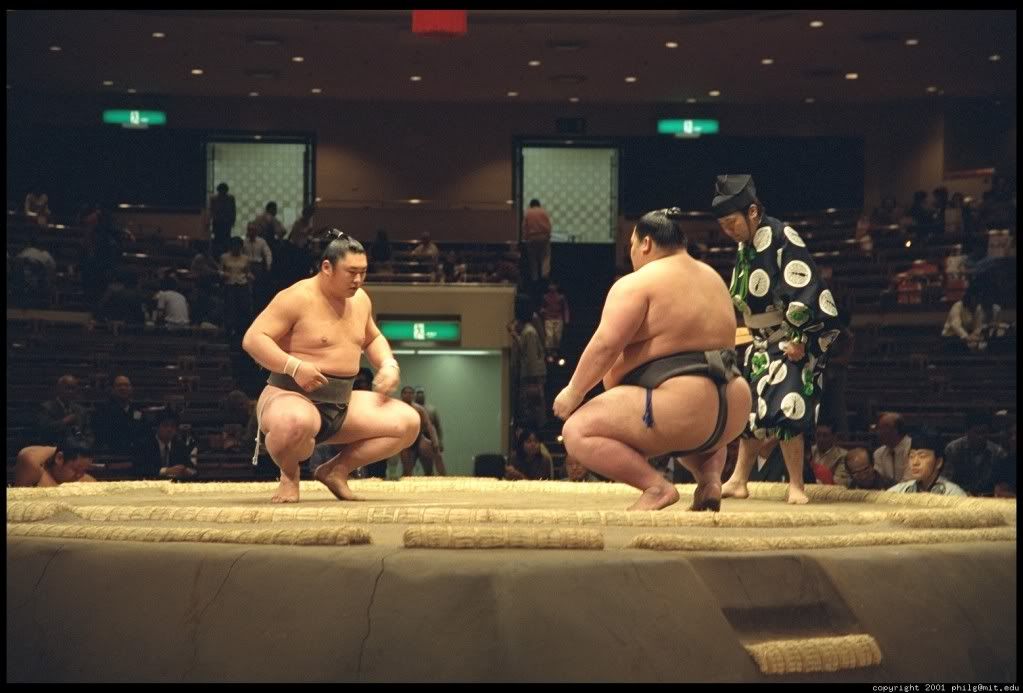 Oh yea.
Machida probably has the most underrated wrestling game in MMA today. If he gets his over/under bodylock on it is virtually impossible to score a takedown, and Jones will find himself stifled time after time. Evans, Ortiz, SIlva, Rampage, and Randy all had basically zero success at taking Machida down and keeping him there. Jones is indeed a singular talent in that regard, but is it enough to manhandle Machida? I think not. For once, Jones will not be allowed to dictate where the fight takes place. How will he react to that?
THE PEE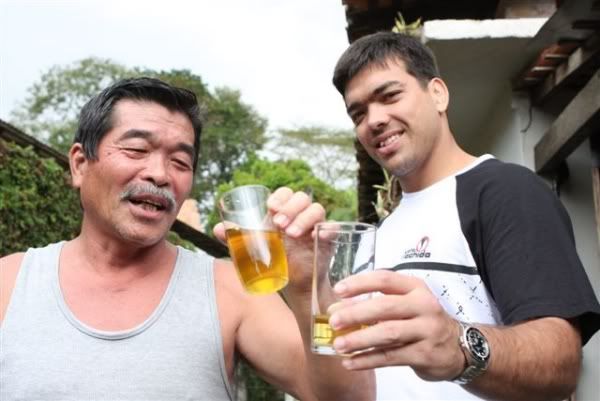 Drinking your own piss makes you very strong. Lyoto Machida drinks his own piss. Jon Jones does not.
Case closed.
picprops www.mmalinker.com