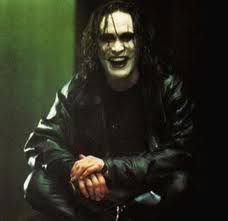 Yea yea. Whatever dude.
Sweet Baby Jesus, I totally told you guys this was gonna happen, lo and behold it does. I'm a fucking MMA magician, I swear to god.
Man, this sucks.
I was SO Hyped last night, especially so after that superb evening of fights preceding a main event I was already salivating over. When Diego snatched that arm up we were all going bananas. Many dubs and beers were had. Before we knew it, it was Miller Time...
ME: "Oooooh. Here he comes! Glorious!"
Everyone is stoked in agreement, previous animosities over opposite picks now forgotten.
MILLER: "Hey! HEY! CLAP YOUR HANDS!"
SPECTATOR: "... Huh? Me?"
MILLER: "YEA! CLAP YOUR HANDS!"
SPECTATOR: "Uhhh... Nah."
MILLER: "NO! CLAP YOUR HANDS! YEA! YEA!"
SPECTATOR: *Looks Away*
MILLER: "FUCK IT! IMA CLAP MY HANDS! YEA!"
ME: "What the fuck is he doing?"
MILLER: "YEA! UNH! *CLAP CLAP*"
Allllll the way to the cage, Miller does this. I can only assume he was missing his usual entourage of Japanese School Girls in a big way.
ME: "He is gonna blow his arms out with all that stupid fucking clapping," I joke to the others. Joke.
Bisping begins to make his way to the cage.
ME: "Watch, the songs gonna be all WOO HOOOOO and people are just going to stare at him like a bunch of Zombies. HA HA!" At least I made one correct prediction for the night.
BISPING: "Yea? I DOHNT CAEHH! FACK ALL YOU BLOODY PONCES!"
ME: "Ooh, he looks maaad."
The Staredown? Epic. I love it when they have to hold the fighters apart, both dudes looked fucking serious.
Game Time.
I had thought that Miller would be able to score on Bisping at will with his weird-ass but effective Muay Thai, especially with Bisping having to worry about the takedown. He didn't disappoint, showing far more aggressiveness than usual, making the usually smooth Count look quite awkward. Miller out landed Bisping nearly 2 to 1, punctuated with some heavy kicks to the legs. One of the major talking points going into this fight was Bisping's elite takedown defence, and how there would be no way in hell Jason Miller could get his fight to the ground. Miller had other ideas, and he snatched up Mike's legs and put his ass down, handily.
Unfortunately, this was to be the high water mark for Miller, as after he secured an Aoki-like leg triangle, he proceeded to do nothing with his dominant position. I thought for sure this would be Jason's domain, and it was only a matter of time before the Count found himself waking up all tingly staring at the ceiling, claiming to be in Ohio. Especially after Bisping seemed incapable of doing anything but look at the Ref and say "EEs Not dooin anaythin! Oi! Stand it ap then Gov!" No Mike, you can't ask the Ref for positional changes, you have to do those yourself.
This is about the time BJ Penn's Spirit Animal found Miller and bonded with his soul. It needs a new home, after all. Or maybe it was that ol' Lactic Acidosis again... Either way, Miller came out in the second frame looking like he just fought 20 hard minutes instead of 5, and Bisping was just getting warmed up. This was clearly not the same man that endured marathon battles with Jacare and Jake Shields, and the more Miller weakly pawed at Bisping we could clearly see that Mayhem had nothing left, barely 6 minutes into arguably the most important fight of his career. The room I was in had gone into an uncomfortable silence. Mayhem, was in fact, (scientifically speaking), getting his shit pushed in.
This continued for the entire second and third rounds, and Mayhem it seemed, was more disgusted with himself than anybody.
And Mayhem was determined to make Mayhem pay.
And pay he did, as Bisping rained punches, knees, and elbows on Miller, over 150 strikes in all, 125 of which were to the face and head, 105 of which were considered significant strikes. Bisping had his way with a defenceless Miller, and as a big fan it was pretty hard to watch, especially with Miller egging on the beatdown any time Bisping wasn't punching him in the face. As Bill famously said, this was Miller at his... Most... Masochistic. Call it heart, toughness, balls, whatever you want. Whatever you call it, Jason Miller has it in spades. No doubt Mayhem could have taken whatever Bisping had to give for another 10 minutes, but, unable to halt the beating in any way, the Ref was forced to stop it as Jason had literally no way to defend himself.
This was indeed one of the more disappointing moments of the year for me, if not in my entire MMA watching lifetime. BJ/GSP 2 comes to mind in comparative soul-crushing results.
But, the last thing I am is a Bandwagon jumper. Miller will be back, and I will be cheering for him. He made Bisping look foolish in that first round, and that's the fighter that I hope will return for more than 1 round the next time we see him in the cage.
War, Miller. War.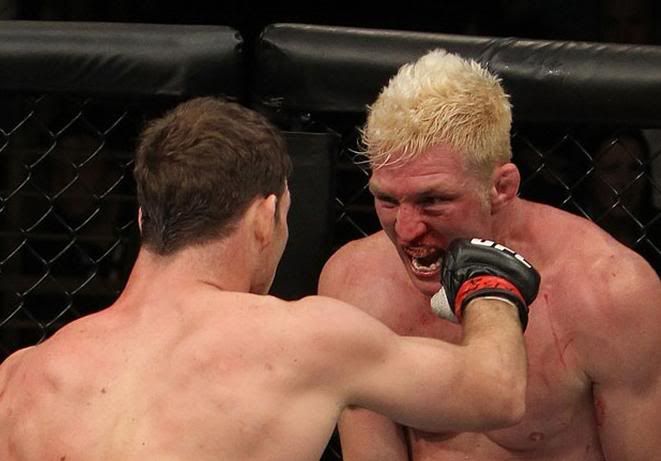 picprops: mmalinker.com, mixedmartialarts.com