Is Anderson Silva the greatest MMA fighter of all time? Any knowledgeable fan of the sport can understand an argument for the affirmative. Silva's dominance in the past five years has been unmatched. He's taken over every challenger, including some in other weight classes, and disposed of them with ease. In fact, he's been so dominant in some of his performances that he's been labeled 'boring'.
News broke today that Anderson's career may be entering it's twilight period. With just a few fights remaining in his career, who's left to challenge him? We'll do our best Joe Silva impersonation and give our four most 'must have' bouts.
In a recent interview with SporTV, Ed Soares spilled his thoughts on the Chael Sonnen rematch. Ed doesn't believe Sonnen should be the next in line and should have to wait his turn along with guys like Vitor Belfort.
But even more important than that is that Soares also stated that he believes Anderson only has about 4 fights left in his career. Here's the excerpt from the interview:
"Let's see what the big boss is going to do. My opinion is that he (Sonnen) had his chance and tapped, he should go back to the end of the line. The same thing is true with Vitor Belfort. They're great fighters, but they had their chance. Sonnen would make a big fight, as would Dan Henderson and Georges St-Pierre, but we should recognize that Anderson only has around 4 fights left in his career."
So with the impending retirement of "The Spider", there are some match-ups that must be made in the very near future. We'll give you the four most important bouts to solidify Silva's title as "Greatest Of All Time".
This rematch must happen. After Chael's Sonnen outburst at UFC 136, there is no side stepping it. Silva may have been able to pass by Sonnen's borderline lunacy prior, but now, he has to squash it. Sonnen handled Anderson for 21 minutes of their first 23 minute bout.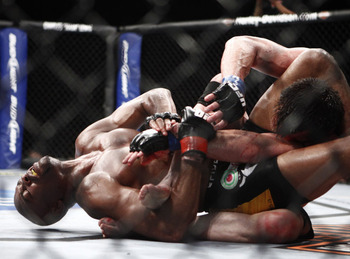 Chael hit him with punches, took him down at will, and controlled him on the mat. Until the last minute of course. But the damage to Silva's aura of 'invincibility' was done. For the first time, we saw holes in the champs armor.
Silva and camp have said that Sonnen's outburst will not control when they accept the fight, and rightfully so. The champ should decide when he wants the rematch, but there should not be a question of 'if'. If Silva does not accept this fight, rumors from Silva-haters everywhere will ring loud and clear. "HE DUCKED HIM!!" "HE WAS SCARED" "HE KNEW HE WOULD LOSE". In order to go down as the all-time great, you have to silence your critics. You beat Chael for a second time, you're well on your way.
Anderson Silva vs Georges St Pierre
It's a match that MMA fans have been salivating over for quite some time now. If there's a case to be made for someone being as dominant as Anderson Silva in the past couple of years, that case is usually made for GSP.
He has defended his belt 7 times and done so in as equally impressive manner as Anderson. Assuming Silva can get past Sonnen, it's time he step up to Sonnen 2.0.
GSP does everything that Sonnen does, he just does it better. And we already know that Sonnen had a gameplan for success. St. Pierre would be able to land more explosive takedowns, a quicker jab, and have that little extra added bonus known as 'submission defense'. In my opinion, GSP represents one of the biggest challenges that Silva could face. A wrestler with great top control and good defense. If Silva makes it thru Sonnen, a match-up with GSP should be in his very near future.
Assuming he ha
ndles both GSP and Sonnen, we should first, stop for a round of applause. Then promptly get back to picking him apart. In my completely hypothetical tournament, Silva would have already disposed of two outstanding MMA wrestlers. We have to change our course of action. How about one of the most dynamic strikers in the sport? Oh, and by the way, he'll be heavier and taller than you. Maybe this will work.
The two would have to meet at some sort of catch-weight, but Jones would still clearly have a distinct height and reach advantage. Jones could still wrestle his way out of a bad spot if needed, but it would serve him well to keep his range and light Silva up from distance. Jones represents a unique challenge with his unorthodox striking, but would it be successful against Silva's head movement? We might as well try, because I am running out of ideas.




Anderson Silva vs Middleweight Challenger 'X'
If Silva puts a stern beating on Sonnen, GSP, and Jon Jones, we simply give up. That's right, just hang it up. I'm sure someone out there will want him to face Cain Velasquez (or whoever the Heavyweight title holder is at that time) but we have to draw the line somewhere. It's time to let Silva bask in the glory of being the 'GOAT'. That's why we give him a final send off in
his home territory.
During the amount of time it would take Silva to face these three challengers, I'm sure that a new and exciting Middleweight challenger will rise from the ashes. A challenger that many fans will be excited to see challenge for the belt. We'll break down his new and exciting strategy and his ten keys to victory. That's when Anderson steps back in and crushes all of our hypothesis for the final time. He defends his belt once again and walks away with a legendary winning streak, the likes of which may never be seen again. An induction into the UFC Hall of Fame will undoubtedly follow the bout.
So there it is. My final four dream fights for "The Spider". It's unlikely that his final stretch will materialize this way, but we can always hope, right?
Maybe you see it a little differently. Let me know in the comments section below who you want in Anderson's 'final four' and the order you want them to happen.
Whether it plays out this way or not, watching the career of Anderson Silva has been an amazing spectacle for all of us who have been lucky enough to watch it.
As always, make sure to check my stuff out on facebook!
The FanPosts are solely the subjective opinions of Bloody Elbow readers and do not necessarily reflect the views of Bloody Elbow editors or staff.