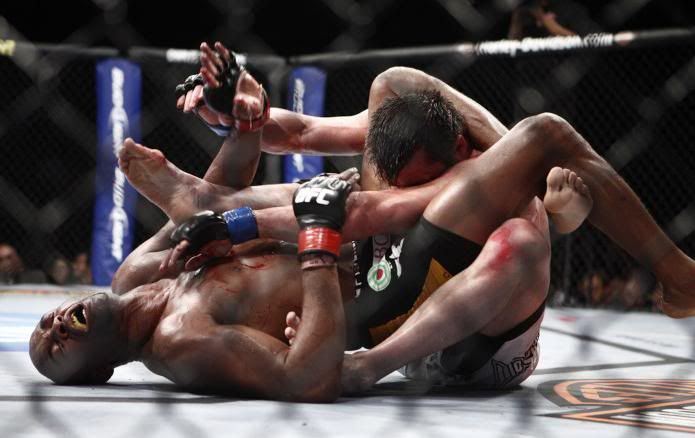 I thought that this was going to be the fight of the year from the moment it finished. It was run close by some other fights featuring 5 rounds of positively epic action, but everything involved with the making of this matchup and the actual fight unfolding, to the incredible finish added up to not only make this the fight of the year, but probably the most exhilarating contest that I've ever seen in combat sports.

First of all, the build up to the fight raised the levels of expectation to unprecedented levels, the likes of which had never been associated with for any of Silva or Sonnen's previous combined fights. The seeds for the match up were sown as Sonnen defied the bookmakers in January at UFC 109 to walk through a barrage of Nate Marquardt's offence and pound on him for 3 rounds on his way to a unanimous decision victory, fight of the night bonus, and shot at the middleweight title. Then, in April, most of the sport's fans turned on Anderson Silva as he coasted through a fight with Damien Maia, refusing to take the contest seriously and toying with his Maia who was out of his depth. Presumably seeing that the general MMA public was turning this way, for the next six months Chael proceeded to talk the most ridiculous amount of bullshit to belittle Anderson and his accomplishments, and make a case for himself winning in their fight, as you can see in the video below.



Now as you can probably imagine, most of what was coming out of his mouth was rubbish. Anderson Silva was (and still is in my opinion) the best fighter in the world, with wins over top 10 opponents in three weight classes, and the longest win-streak in UFC history. While many may have been sucked in by Chael's talk, most educated fans still saw the fight for what it was. A fight where the only way that Anderson Silva could be defeated would be if Chael Sonnen could wrestle him to the ground at the start of each round, and keep him there for 25 minutes due to his lack of standup technique or submission skills. Unlikely. The same thing would probably happen as in the Marquardt fight, with Sonnen having to eat several knees to achieve this. The difference between Silva's and Marquardt's knees though is that Silva tends to destroy people's worlds with his. So far, so boring, presumably another straightforward win for the champ.

Because of that, what followed was twice as thrilling as it would have otherwise been. After a brief feeling out period, CHAEL SONNEN DROPPED ANDRSON SILVA WITH A STRAIGHT LEFT HAND. The same Anderson Silva who channelled the spirit of Neo from The Matrix in the fight with Forrest Griffin, slipping punches and firing back with devastating power and accuracy. This did not matter to Chael Sonnen, proud Republican and real estate agent from Oregon; he would probably have taken the blue pill. He just fucking drilled Anderson straight down the pipe, and followed up the rest of the round by continuing to hit him standing up, then dump him on his back and literally pound his head into the mat.

Fine, a small set-back for the champ. Surely he'd regain his usual swagger in the second, and make Sonnen pay for the audacity of actually hitting him. NO. For the next two rounds, Sonnen countered Silva's kicks, put him down, and made him suffer, delivering blow after blow to the head and body on the ground, Anderson losing all sense of his usual calm and swagger. This was unbelievable. A man who had not looked so much as slightly vulnerable for the past four years was down 30-26 over three rounds and surely on his way to losing for the first time ever in the octagon.

It was do or die now, basically nothing but a stoppage would win for Anderson Silva, and he came out like a man who wanted to take his opponents head off. Exhausted, he took the centre of the octagon, and put Sonnen Down as he sent his right elbow crashing into his chin, then stalked him down, firing off kicks and punches, but not his usual crisp straight strikes. Wide, looping shots, grabbing onto the cage for support. He stuffs a takedown, the first time that had happened in the fight, but then Sonnen reverses the situation, sweeping from half-guard and putting the fight back to where it had been for most of the last 15 minutes. Unbelievable. Then, the fifth and final round, Silva steps forward again but gets clipped with a wide left hook around the ear and crunbles again, Sonnen gets on top and looks to ride out the last five minutes to a 50-43 scorecard, the title, breaking the biggest winning streak of the most dominant champion and best fighter in UFC history. Adulation, plaudits, and probably as many batshit crazy tea-party Republican women as he could possibly get his hands on for the rest of his life. With two minutes to go both fighters were knackered and seemingly resigned to this inevitable outcome. But Chael Sonnen is Chael Sonnen, and Chael Sonnen's M.O. is getting caught in submission holds. He gets lazy, allowing Anderson double-wrist-control, for about 30 seconds, allowing him to adjust his hips enough to slap on a triangle choke. There's a struggle, CHAEL SONNEN TAPS! LESS THAN 2 MINUTES TO GO! OH. MY. GOD. My reaction was comparable, but considerably less ghetto than these gentlemen.



This was probably the single most exciting moment I've ever seen in sport. Football is something I will always love more than anything, but no instance in a football match could have a team losing 5-0, only to suddenly win the match in the space of 5 seconds. Due to the combination of everything that had gone before in the fight, and the previous 6 months, the reversal of fortunes and the crescendo that this fight finished on was easily the most electrifying moment that could be possible in athletic competition. To make matters even more astonishing, it turns out that Anderson Silva had a rib injury, which essentially meant he had absolutely no business stepping into the cage that night. Before presenting Silva with his belt, the camera panned to Dana White and showed him telling Silva "you're the fucking man," He's never said a truer sentence. There were better technical fights in 2010, there were more competitive fights in 2010 and there were more significant fights in 2010, but no fight provided more drama, excitement, disbelief and awe than Anderson Silva vs. Chael Sonnen in 2010, and best of all, it was over 5 ROUNDS. That is why I rate it as the fight of the year.

After the jump, some other fights worth a mention.
Honourable mentions

Leonard Garcia Dec3 Chan Sun Jung – WEC 48: Aldo vs Faber

Many of you may have actually seen this fight if you know me seeing as I showed it to pretty much everyone that would entertain the notion. It was a poor decision from the judges, but an absolutely thrilling all out brawl between two guys who don't seem to know the meaning of pain. I can't forget Garcia laughing as he gets dropped and repeatedly punched in the face. Nuts

Jorge Santiago TKO5 Kazuo Misaki – Sengoku 14

I can hardly sum this up in a few phrases. I recommend Sherdog's summary as this was their choice as fight of the year.

Chris Leben Sub3 Yoshihiro Akiyama – UFC116: Lesnar vs Carwin

Not technically great, not the highest level fighters but oh my goodness this was 3 rounds of unforgettable action. Chris Leben came in for his second fight in 2 weeks and traded punches with the Japanese judoka, with both fighters taking impossible amounts of punishment before Leben locked on the triangle.

Anthony Pettis Dec5 Benson Henderson – WEC 53: Henderson vs Pettis

I could mention how awesome the back and forth five rounds of this fight was, but why do that when I could just show THAT kick that won Pettis the fight.




probably not the most original list, but there's nothing that I can think of that entertained me more.