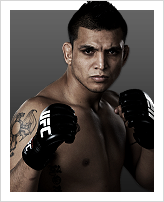 According to MMA Weekly:
"Ultimate Fighter" season 8 winner Efrain Escudero has been released from the UFC following his September 15 loss to Charles Oliveira at UFC Fight Night in Austin, Tex.

Escudero confirmed the release on Monday.

This marks the first time the UFC has released a winner from the "Ultimate Fighter" reality show. Travis Lutter was also released from the UFC after winning on the show, but he had previously competed in the promotion, and was a part of their "comeback" 4th season.
Hello true fan I was released by the Ufc today speaking to strikeforce and bellator. Taking a week off and make my way back!!!!!
Efrain Escudero (13-2)
Loss Charles Oliveira - Submission (Rear-Naked Choke) UFC FN 22
Win Dan Lauzon - Decision (Unanimous) UFC 114
Loss Evan Dunham - Submission (Armbar) UFC FN 20
Win Cole Miller - TKO (Punches) UFC 103
Win Phillipe Nover - Decision (Unanimous) TUF 8 Finale