Last night I was lucky enough to receive a press pass to Bellator 23 in Louisville, Kentucky.  It was about a 5 hour drive for me to get to the venue and I learned a very important lesson: bring sunscreen if you're going to stick your arm out the car window for 5 hours.  By the time I pulled into the parking lot next to the venue, my entire left forearm was burnt to a crisp.
Anyways, the venue where Bellator 23 was taking place was incredible.  It's called 4th Street Live!, and it's semi-outside.  There's a big glass roof over your head, but the north and south ends are completely open.   As you can see below (this was before the undercard fights even started) the place was jam packed, even the above walkways and balconies were lined with anxious spectators.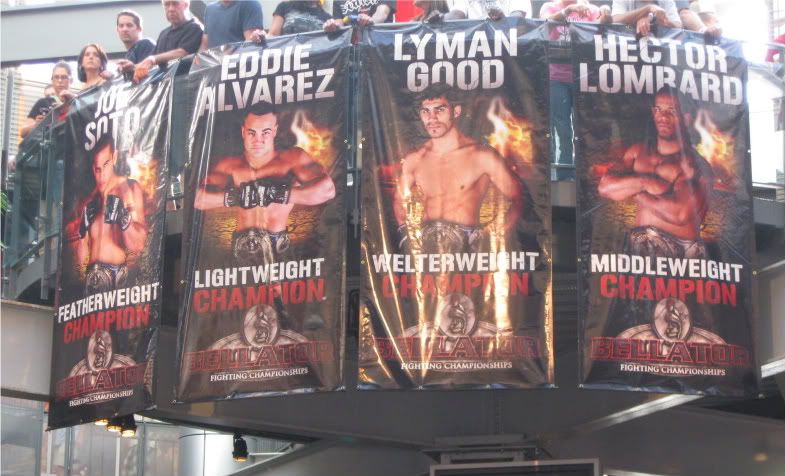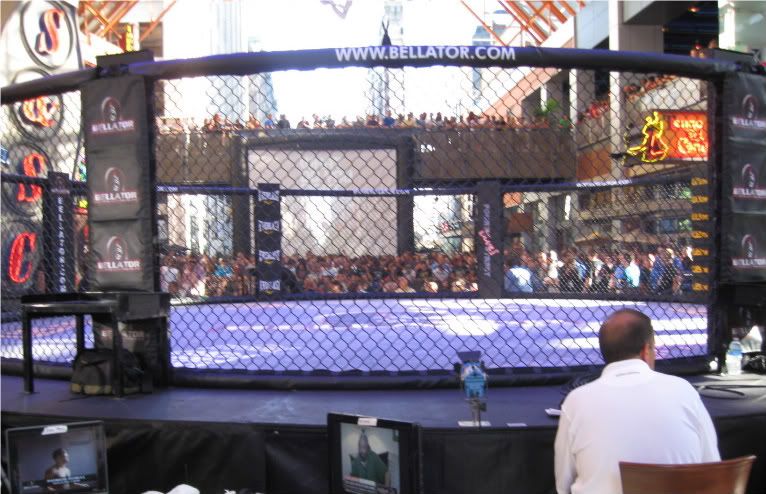 I picked up my credentials and took a seat in the press row next to a cool blogger from Louisville and a sportswriter from the The Courier Journal who had never been to an MMA event before.  Before the event started, I had a chance to talk to UFC welterweight Marcus Davis, who was there to support his friend's girlfriend Zoila Frausto, who was fighting that night.  Zoila didn't disappoint, scoring one of the best knockouts in women's MMA history midway through the second round against Rosie Sexton.  The crowd completely ate it up, it was stunning.  After the event, Bellator CEO Bjorn Rebney said that Zoila is first in line to take someone's place in the season 3 women's 115 lb tournament if someone can't participate.  (There's a decent chance Rosie will be medically suspended for more than the next 6 weeks, which is when  the tournament starts.)
In the finals of the middleweight tournament, Russian striker Alexander "Storm" Shlemenko withstood an early push by Brian "The Beast" Baker and earned a fantastic TKO victory.  Shlemenko dropped Baker with a straight right punch followed by a big knee to the body, the referee stopped the fight after Baker turtled up and ate several unanswered punches.  I asked Baker what his gameplan was at the postfight press conference and he said,
Well the plan was to stand and trade with him a bit, get his defenses down and then take him down near the end of the round.  I felt a little flat though, and you saw what happened.  In retrospect, I really wish I'd taken him down sooner.
In the featherweight tournament finale, Joe Warren put on an epic display of heart against Patricio "Pitbull" Freire.  Freire absolutely dominated the first round, first locking Warren in a standing arm triangle, the likes of which I'd never seen before and what likely would have been a submission of the year candidate had he pulled it off.  Pitbull shrugged off Warren's takedown attempts and dropped him with about a minute left in the 1st round.  Freire spent the next 55 seconds trying to get the fight stopped and latched on a rear naked choke just as the bell rang.  I thought for sure the fight was going to be stopped at the end of the first, and I was certainWarren wouldn't come out for the 2nd round after the beating he took.
Warren not only came out for the 2nd, but he was more aggressive with knees from the clinch and had a huge takedown about halfway through the round.  Warren was active enough from on top to keep the ref from standing them up and the crowd roared with approval.  In the third, Warren took Pitbull down multiple times, and had one last big takedown with 5 seconds left in the fight as the crowd chanted "Let's go Joe!"
The judges ended up ruling it a split decision victory for Warren.  He won the last two rounds, but I was pretty certain that first round should have been 10-8 for Pitbull, which would have made the fight a draw.  Many other writers agreed with me and so did Joe Warren face, which was really busted up after the event, check out my picture of him seated next to Bellator CEO Bjorn Rebney.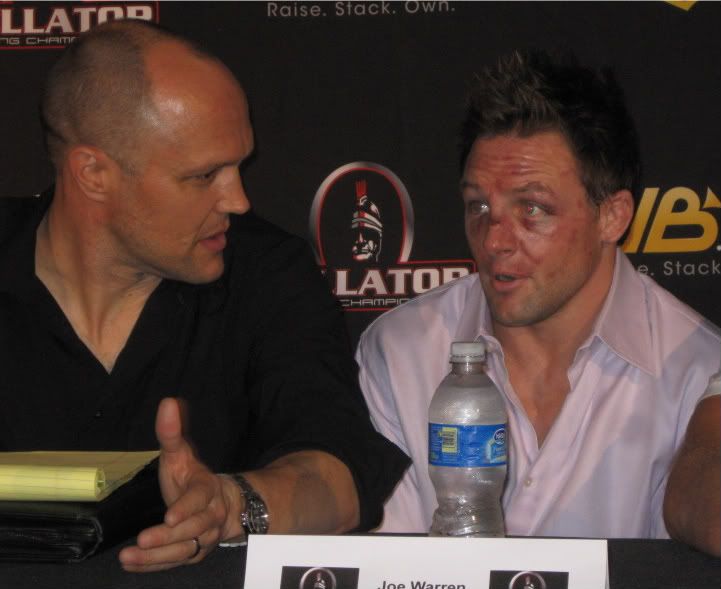 At the postfight press conference I asked Bjorn what would have happened if the fight had been ruled a draw since this was the tournament finals.  He said that someone had to win since this was the finale and if there had been a draw, they would have likely gone to a 4th and final round.  Regardless, Warren got the W, but it does beg the question: What does it take for an MMA judge to score a 10-8 round?
The last televised fight was a bantamweight eliminator match between Nik Mamalis and Albert Rios with the winner getting an invite to Bellator's season 3 bantamweight tournament.  Mamalis made a big statement in his first fight at Bellator 20, earning a submission victory over Mark Oshiro, who had already been invited to the bantamweight tournament.  Mamalis again impressed, this time avoiding some big submission attempts and rocking Rios near the end of the round and finishing him off with some ground and pound.  It's a great story for Mamalis, who was an afterthought four weeks ago, but now will be given an opportunity to win Bellator's inaugural bantamweight title.
After the event, all televised fighters attended the postfight press conference which Bellator streams live on their website.  They even allow questions to be sent in via e-mail or twitter.  There is literally a PR guy with a laptop scanning for questions from the fans which I think is pretty awesome.   One of the better questions concerned free agent welterweight Jay Hieron, who was in attendance.  Bjorn said that Bellator would love to have Jay, he hasn't been given as much exposure as he deserves and he would be a welcome addition to their welterweight division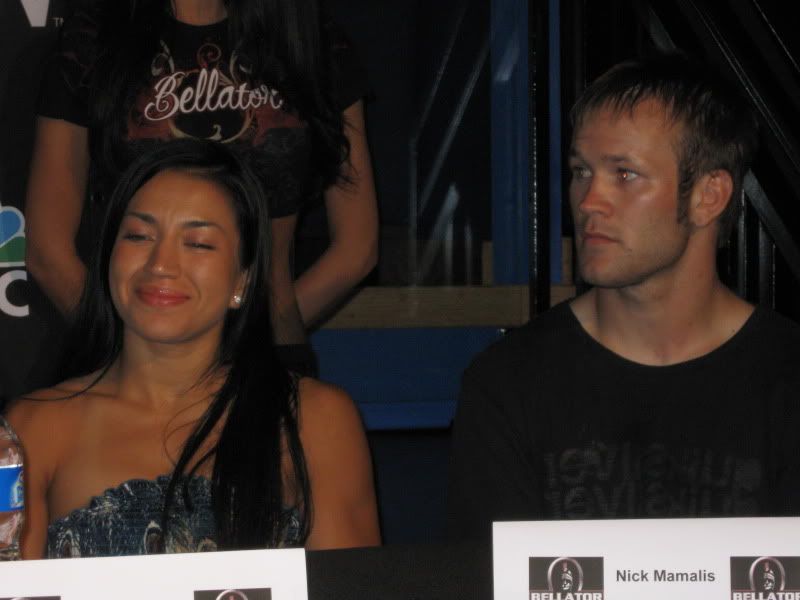 Zoila Frausto and Nik Mamalis at the post-fight press conference
I didn't want to be a press conference hog so I only asked my two questions, but I had a chance to talk to a lot of the fighters afterwards.  Joe Warren made sure to tell me "Go Blue" since I had an Ohio State shirt on and he was a Michigan alum, which I found amusing.  Alexander Shlemenko said that he would have some surprises in store for Bellator middleweight champ Hector Lombard, maybe a spinning back flying knee?  He's tried a spinning of everything else.
I tracked down Bjorn Rebney one last time and asked him about what weight class their 4th tournament would be for season 3 since they hadn't announced any fighters yet.  Bjorn told me they initially wanted to hold a light heavyweight tournament but they were having trouble finding enough free agent talent to make it intriguing enough.  He told me that it is not yet official, they are leaning towards only having the three tournaments (heavyweight, bantamweight, women's 115) and then just filling the rest of the televised portion with interesting non-tournament fights.
Lastly I got to talk to the WEC's Scott Jorgensen, who was in the corner of Joe Warren.  I asked him about his upcoming fight with Brad Pickett, and jokingly told him to watch out for that nasty Peruvian Necktie.  Scott thundered back by saying "If Brad shoots in I'm gonna rip his head off with a guillotine" and I believed him, especially after seeing what he did to Chad George at WEC 47.
All in all, I had a great time.  The Bellator fighters are so down to Earth and easy to talk to, the same goes with Bellator CEO Bjorn Rebney.  In my opinion, this might have been the best show Bellator has put on thus far in their two year, 23 event existence.  All the fights were entertaining, featuring some great comebacks and back-and-forth moments.  The undercard was very exciting as well, especially the see-saw welterweight bout between Stoney Hale and and Mike Fleniken which Hale won via rear naked choke at the end of round 2.
My only disappointment was the lack of mainstream media coverage.  There were about 7 or 8 bloggers in attendance and one local sportswriter.  Bellator consistently puts on great shows, with highlight reel moment after highlight reel moment.  They have a few high caliber champions and a very well spoken CEO who represents them well along with an FSN television deal every Thursday night.  I know they are new and will probably experience growing pains along the way, but these guys are legit and deserve more attention than they receive.  Here's hoping season 3 (which starts in August) will really put them on the map.
Edit: Since people keep bugging me about it, here's a link to the site I write for