Ninjas Place was on hand for this historic event co-promoted by the UFC, Marvel and GI Joe.

Fight card ;

Team UFC : Wanderlei "The Axe Murderer" Silva vs Team GI Joe : Big Brawler
Team UFC : "Captain America" Randy Couture vs Team Marvel : Captain America
Team UFC : Anderson "Spider" Silva vs Team Marvel : Spider-Man
Team UFC : Brock "Vanilla Sapp aka The Hulk" Lesnar vs Team Marvel : Red Hulk
Team UFC : Lyoto Machida vs Team GI Joe : Cobra Ninjas

The Axe Murderer vs Big Brawler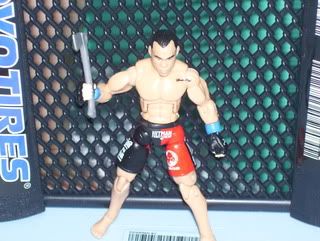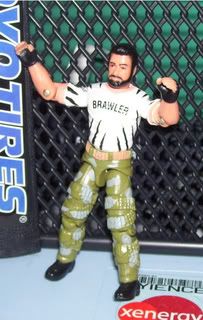 Pictured Above ; The Axe Murderer(red and black trunks) Brawler(geen pants)
Pride Rules, bitch.
This was a quick and brutal fight as the Axe Murderer lived up to his nickname and finished the bout after some vicious soccer kicks followed up by his signature move - rape choke from mount. After the contest there was some controversy as Team GI Joe protested the soccer kicks. Brawler will be remembered as a real American Hero. Wanderlei Silva wins via KO round 1(Axe Murder)

Captain America Randy Couture vs Captain America Steve Rogers(special five round title fight for the exclusive rights to the "Captain America" name)
This was a very intriguing bout from the get go. Both of these competitors are significantly older than they look with Couture being near 50 and Rogers being a WWII veteran, both are known as "Captain America" to their fans, and both are the product of millions of dollars of pharmaceutical science. Super-soldier Serum in Rogers' case, TRT and HGH in Couture's case. This was a definite departure from the usual Couture performance...
Action from early in round 1.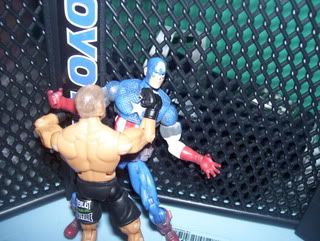 Action from later in the same frame.
The closing seconds of the first round.
Round two.
Round three.
Later in round three.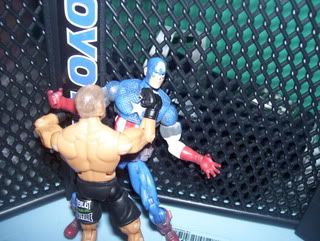 Round four.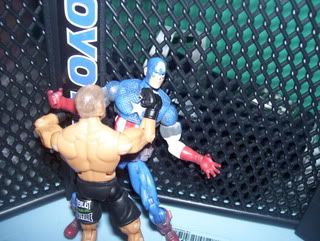 More round four.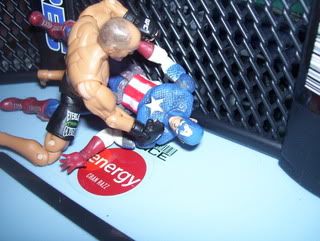 Unfortunately for Rogers, the Super-Soldier Serum is over 70 years old, and whatever shit Couture is on is cutting edge. It appears that made the difference in the long run. Couture wins via TKO round 5(strikes)
Anderson "The Spider" Silva vs Spiderman.
In another amazing come from behind victory, Silva rebounds from being dominated early on on the ground. The storyline leading up to this fight was Spiderman's so called "Spidersense" and his Spider-reflexes being too much for
Anderson Silva
. As I predicted though, Spiderman's powers were heavily overrated after bouts with poor strikers such as Lizard, Rhino, Nate Quarry and HobGoblin.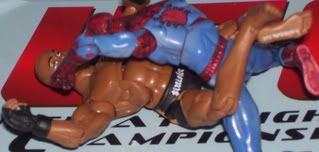 Spiderman unleashes GnP from Silva's guard.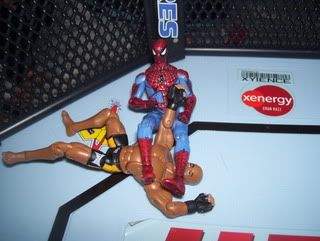 No matter how much sweat or grease Anderson rubbed on himself between rounds, it seemed to have no effect on Spiderman's BJJ game.
Silva had no answer early on for the dominant top control of Spiderman
Silva unloads with a kick to the body that seemed to hurt Spidey. This turned the tide.
Silva counters a hook and lands stunning left hand to the wall crawler that left him motionless for several tense minutes.
Anderson Silva, doing whatever a Spider can while celebrating his stunning victory late in the third round.
This bout was also not without some controversy as Spiderman had to be warned several times for grabbing the cage with the soles of his feet. He kept arguing it was unintentional but video evidence showed otherwise. Also, ringside judge and newspaper mogul Jonah Jameson had the bout 20-16 in favor of Anderson Silva going into the third round. Anderson Silva wins via KO(punch)

Co Main event of the evening. Brock Lesnar vs The Red Hulk.
In what will go down as one of the most shocking upsets of the year, prohibitive fan favorite Brock Lesnar was dominated from pillar to post. On paper going in, most pundits gave Hulk little chance to win this, despite the fact the "Rulk" has significantly more strength than the Green Hulk and was able to kill long time Hulk rival Abomination with relative ease. Most still felt Lesnar's strength, speed, size and athleticism was going to be more than enough to handle whatever the Red Hulk threw his way.
The two square off in the cage.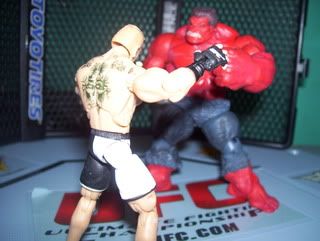 I think Lesnar had a slight size advantage.
Totally unexpected, the first punch Rulk lands sends Lesnar fleeing in terror, spinning wildly as he attempts to escape...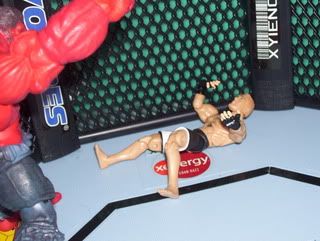 ..before crashing in a heap in the corner. The picture doesn't really show it well but ring side observers reported urine running down the leg of the former HW champion.
Hulk Smash!
Red Hulk wins the bout via TKO(verbal submission)
After the bout, as Lesnar was being carried out of the cage in a stretcher, the Undertaker mounted a surprise ambush and hijacked the gurney Lesnar was on, and loaded into an awaiting hearse. No more information is known on the whereabouts of Lesnar, or if he will ever be seen inside the Octagon again, but something tells me the chances don't look good...
UPDATE : Dave Melzer is reporting The Undertaker has said if Lesnar isn't allowed to fight at Wrestlemania, he'll never be seen again...



The Main Event : Lyoto "The Dragon" Machida vs Cobra Ninjas!
Usually filmed silhouetted at dusk doing kata or playing with a sword on a beach, or assorted other ninja-like activities, Machida is often compared to a Ninja himself. Since the start of the
Machida era
, it became clear no one in the UFC can manage to land a leg kick on him, much less a clean blow to the temple. He is too elusive. Dana White is a man of the people, and after constant harassment via twitter he delivered by signing this historic first multi-fighter bout in UFC history.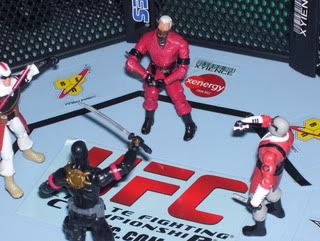 Machida's opponents awaiting their fate in the Octagon.
"You wanna be a fuckin' ninja like us? Join the fuckin' forum and post at
Ninjas Place.
"
Always Humble, Machida has never been one to make a big production out of his ring entrances.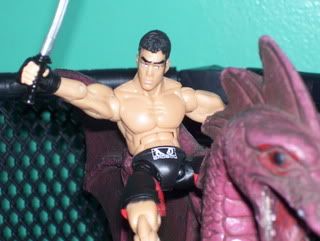 "What's wrong with my Dragon?"
"It's scaring the spectators!"
"...you're scaring the spectators..."
Arianny and Machida's brief exchange as he entered the cage, where she told him to man up and order a Miller Lite when he is ready for a beer with real taste(Bud Lite won't pay her nothin').
And Here we go! Machida lands into the center of the cage, surrounded by the most dangerous ninjas ever seen in the cage since the days of Scott Morris.
A ninja attacks...nunchucks wiz by Machida's head...how elusive!
And Machida counters!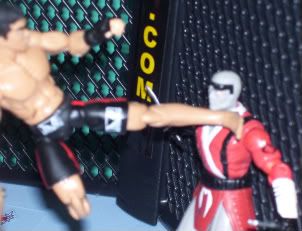 Wow, Machida springs right into a flying knockout kick!
Joe Rogan during the broadcast "Wow, what an amazing flying side ki..."
Tomas Rios buts into the broadcast booth "actually Joe, that was more of a flying question mark kick.."
Joe says right before Machida counter attacks SugaNinja "Shut the flying fuck up up you fuckin fa..woah!" ( Security intervened and Rios had to be tased, repeatedly, he was later fired)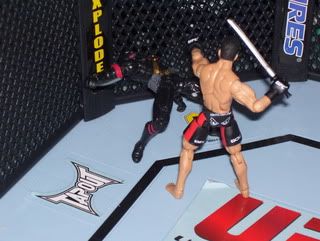 Machida lands an amazing counter on SugaNinja!
When I hit da dance flo...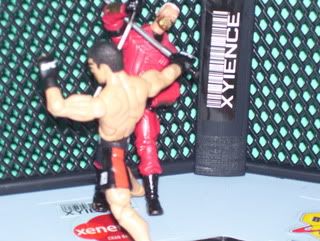 The Dragon finishes off the last ninja!
Machida, celebrating decides to take Arianny up on the Miller Lite, after all, it tastes just like his other drink of choice you know...
Machida wins via KO(stab), TKO(punches), KO(kick) and KO(throat slash)
Thanks to my 8 year old for assisting me in this endeavor!  This was originally posted at ninjasplace.com.