After watching WEC 51tonight, specifically the fight between Cerrone and Varner, I couldn't help but feel a bit of pent up hate against Jamie Varner. 
Be it the fact that in their first fight, the fight was stopped because of the knee that Cerrone threw, yet when interviewed, Varner said he couldn't continue due his hand being broken.  Or maybe its because he wears sunglasses on his way to the cage.  Or maybe its the fact that after getting sub'd by Henderson, he said that he "showed up to fight, while Henderson showed up to grapple."
Regardless, I hate him. 
This leads me into the post.  My friends and I were talking about who the most hated fighters are, and if they should rightfully be hated. Later on I'll go into the specifics, with a Poll to determine who the most "hate-able" fighter really is.
#1.  Josh Koscheck:
Why he should be hated: The original TUF Heel.  Koscheck has made a career out of playing a "peckerhead".  Whether it be insulting Chris Leben in season 1 of the Ultimate Fighter, playing up "injury" against Anthony Johnson from a phantom knee or insulting GSP and all of Montreal after a less then impressive win over Paul Daley, Kos is always ruffling feathers.  Adding to this is the fact that he refused to acknowledge that he was KTFO by Paulo Thiago, and it is quite easy to see why he is considered one of the more hated fighters today.
Why we should NOT hate him:  He's one of the best WW of his generation.  He's actively tried to change his image from a boring wrestler to a well rounded Mixed Martial Artist.  His loyalty to his teammates at AKA.  Its not his fault that AJ threw a knee at his head while he was on his knees.  He plays the heel character more then actually being a Heel (who can blame him?  You don't see Jon Fitchgetting the coaching gig on TUF).
#2 The Diaz Brothers:
Why we should hate them: They lack respect for their opponents, and generally don't give a fuck about anyone that isn't affiliated with the Gracie name.  They beatdown Mayhem Miller for doing the exact same thing that Nick did to KJ Noons in 2008.  They openly admit to drug use, which many think is irresponsible due to being in the public eye.  Nick tainted one of the best fights ever for pissing dirty.  They look at the MMA media like they are trying to hold the brothers down, and generally give the worst interviews in MMA.
Why we should NOT hate them:  They are both very, very talented fighters.  Mayhem probably deserved it.  Loyalty... hate them or love them, you have to respect the loyalty they have to their team/family.  Who care's if they smoke weed?  They never asked to be role models, so don't look to them to be role models.  They are real. Sure, the interviews usually come with one word answers, but thats just the Diaz's. 
#3 Frank Mir:
Why we should hate him:  He's SOOO arrogant.  He's "200 times the athlete" as Big Nog (c'mon..who can insult Big Nog?).  He want's to record the first death in MMA(good luck with that pal).  His man-crush on Miguel Torres.  When he announces, he pronounces it gill-o-teen not guillotine.  He actually thinks he's gonna drop to LHW. His god awful fight with Crocop.
Why we should NOT hate him:  He came back from a career threatening injury to become a 2 time HW champion, so he has a right to be arrogant.  He's the first guy to put Nog to sleep with his fists (although Cain made it a trend).  He really is a good announcer,and is quite knowledgeable and articulate.  In 19 fights, he's only gone the distance twice.  He snapped Big Timmys arm in like a minute flat.
#4 Anderson Silva:
Why we should hate him:  Patrick Cote, Thales Leites, Demian Maia. He made a mockery out of 3!! main events, with no regard to fans and spectators....?  Hmmm?  He beat Rich Franklin, and everybody likes Rich Franklin.  Sometimes Ed Soares translates wrong for him?
Why we should NOT hate him:  He's the best, most exciting and dangerous fighter in the world...when he wants to be. Its not his fault Dana matched him up with less then deserving fighters.  He stared down Lee Murray, and then kicked Murrays ass (something Tito couldn't do).  He beat Chael Sonnen(thank god).  He learned how to fight in the Matrix (just ask Forrest).  He has 3 Black Belts (TKD, BJJ, Judo) and he's more dangerous in aspects other then those (Muay Thai).
#5 BROCKLESNAR:
Why we should hate him:  WWE!  That shit is fake, and anyone that was a professional wrestler will never be accepte....wait...what?  Sakuraba started off as a professional wreslter too?  shit.  He has a penis tattoo.  He showboated like an ass against Herring.  He got a HW championship match in only his 4th fight.  He's gonna get on top of his wife and drink a Coors.  Sometimes forgets its not the WWE that he's fighting for.
Why we should NOT hate him:  He's damn good. In 6 fights he's fought the likes of Frank Mir, Randy Couture, Heath Herring, and Shane Carwin...talk about murder's row.  The tattoo is ugly, but it really doesn't look like a penis.  He brings interest into MMA, that no one else has been able to do. He beat Frank Mir into a living death.  Battled back from a serious injury to win big.  He blamed it on Canada.
#6 Tito Ortiz: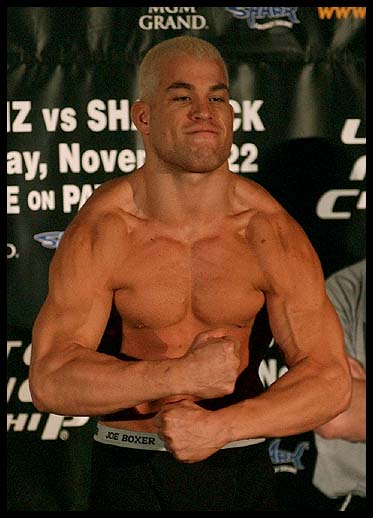 Why we should hate him:   Just look at the size of that Melon.  He's married to Jena Jameson.  He hasn't won a fight since he beat Shammy in 2006.  He said he run's a "multi-billion dollar business" while he was on the apprentice (GTFO). He's some how managed to fight with a broken back for forever, a cracked skull, and yet, he always passes his pre-fight physicals.  He pulled out of ass whooping number 3 by Chuck.  He's just an Idiot.  Some of his famous quotes.."and while the troops are fighting overseas for our freedom, I'm here in this cage fighting for the freedom of mixed martial arts" or "Here we are with Seraldo Babalu, you did an awesome job, saw why you're a black belt in jiu-jitsu, getting an awesome submission there, I want to tell me what you see, let's go ahead and see by the fight, what you saw, in the ring" or my personal favorite "I noticed he's deaf, so he has a soft head".
Why we should NOT hate him: He, along with Chuck, Randy and Rich, was the face of the UFC during its most important time.  He wasa hell of a fighter. He's really a good coach (see both seasons of TUF). 
#7 Chael Sonnen
Why we should hate him: STEROIDS!   He's been fighting for 8+ years and still can't defend a submission very well.  Oh the quotes......"I said, 'No, I don't.' He looked at me again and I yelled, 'No.' Then he stepped in and stopped the fight and I kept yelling, 'No, no, no" or  "He cheated, he did drugs, and he gave himself cancer" or "I don't believe in sportsmanship and honor and all this crap that you guys like to talk about" or "GSP had better pray to heaven above that 'Shogun' accepts my challenge because one of those two is getting beat up" or ....
Why we should NOT hate him:  Well..you probably should hate him, but.....He's a good fighter, and although a wrestler, his fights are rarely boring.  He actually brought the fight to Anderson Silva for a change.  He troll'd us all for a few months prior to his fight with Silva...and it worked to perfection (minus losing).  He has a second full time job (I hate when fighters, especially ones in the UFC complain about money.  If its such a bad paying job, get another one or go find a new career.)