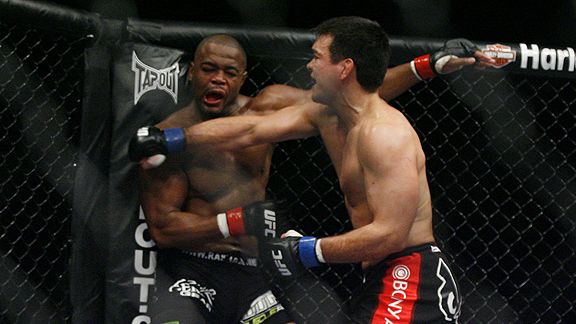 I tend to visit FightMetric from time to time in order to see what cool things they have over there. They give fight-by-fight reports on the big fights that happen and they also give out career reports. The most interesting career report might be that of Lyoto Machida. It's not so much that you are able to look at his fight-by-fight report, minus his first career bout against Kengo Watanabe, but it's the fact that you are able to see the sheer dominance that Machida has been able to amass on his way to an undefeated record and UFC Light Heavyweight Championship. And the best part is when you look at who he has faced in his career. He's faced the likes of Stephan Bonnar, Rich Franklin, B.J. Penn, Tito Ortiz, Sokoudjou, Kazuhiro Nakamura, Thiago Silva, and, now, Rashad Evans. So, let's take a look at how truly dominant and devastating Machida has been throughout his career. I'll break it down into an easy-to-read format.
A look back at Lyoto Machida's career in terms of how many times he's been hit during a fight.
Rashad Evans: 3-of-21 (14.28%)
Thiago Silva: 2-of-9 (22.22%)
Tito Ortiz: 13-of-46 (28.26%)
Thierry Sokoudjou: 3-of-19 (15.79%)
Kazuhiro Nakamura: 11-of-27 (40.74%)
David Heath: 6-of-41 (14.63%)
Sam Hoger: 8-of-42 (19.05%)
Vernon White: 4-of-52 (7.69%)
Dimitri Wanderley: 11-of-42 (26.19%)
B.J. Penn: 28-of-49 (57.14%)
Sam Greco: 7-of-16 (43.75%)
Michael McDonald: 0-of-1 (0.00%)
Rich Franklin: 6-of-19 (31.58%)
Stephan Bonnar: 6-of-28 (21.43%)
_______________________________________________________
Total: 108-of-412 (26.21%)
Penn had the most success. White threw the most strikes but had the lowest percentage of all opponents who attempted at least two.
I couldn't find any data on his first career fight which was against Kengo Watanabe.
Takedowns Attempted: 20-of-29 (68.96%)
Takedowns Defended: 8-of-41 (19.51%)
He's landed 20 of 29 takedowns that he has attempted while only being taken down eight times by opponents during their 41 attempts.
Total Guard Passes For: 48
Total Guard Passes Against: 3
He landed 13 against Sam Hoger alone. The only fighters to pass Machida's guard are Hoger, Penn, and Nakamura. One each. The furthest anyone has gotten in Machida's guard was to half-guard. And that was Penn, from what I could find.
Submission Attempts For: 7
Submission Attempts Against: 5
He attempted four against Sokoudjou alone. Ortiz and Sokoudjou each notched two against Machida while Greco had the other.
Total Dominance Rating: 2845-561
That's a 5-to-1 advantage. Think about that. Penn had the most success against him (150).
Has there ever been a fighter in MMA history, not just UFC history, that has dominated opponents as much as Machida has in all aspects?