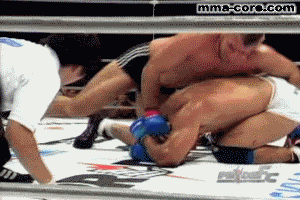 Sharp analysis from the fanposts. Promoted by Kid Nate.

At DREAM.4 the typical striker vs. grappler motif will again headline a Japanese mixed martial arts event. However, one thing will make this unlike any other recent match-up of the two styles: the legality of knees to a grounded opponent.
It's easy to forget, but Kazushi Sakuraba hasn't fought with legal knees on the ground since New Years Eve 2005 . While participating in K-1 Hero's the rules disallow the strikes. Melvin Manhoef has never participated with the technique, with them being absent in K-1 Hero's, as well as in Cage Rage.
In Melvin Manhoef's first fight that permitted knee strikes to the grounded opponent he hastily scored a knockout victory with a single, powerful knee. In that DREAM.3 fight, against Dae Won Kim, Manhoef managed to scramble off his back, reverse position, and end up on top. This, along with his KO victory over Yosuke Nishijima from the mount position, points to a growing capability of Melvin Manhoef to more affectively work on the mat.
Of course Kazushi Sakuraba has the ability to submit opponents. While in K-1 HERO's he managed five submission victories in seven fights. However, three of those five wins came over competitors with a combined record of two and eight. Sakuraba has earned no knockout victories while in K-1 HERO's, and in his most recent fight struggled to take down Andrews Nakahara.
Manhoef's improved ground game, added to Sakuraba's diminished, aging skill set, along with the key element of knees to the grounded opponent, seems to tell me that a first round knock out victory for Manhoef will close out the main event of DREAM.4.