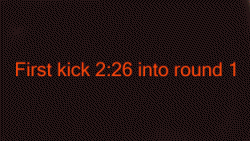 Fight Network has it:
Starnes told The Fight Network that he requested his release from the remainder of his UFC contract, which had been carried over from his appearance on "The Ultimate Fighter" reality series and ensured him three fights per year.
"[UFC matchmaker] Joe Silva told me that it usually takes a couple of days for their legal department to complete the paperwork and that he would send me all of the paperwork to indicate that my contract has been dissolved," Starnes said. "Later on in the afternoon, after I had spoken to Joe Silva, a story was released by some reporter from Yahoo! in which Dana White said that he had released me from my contract. I received no documentation on that, and it came after I asked to be released."
Starnes - who dropped a unanimous decision to Quarry and was booed by his fellow Canadians for failing to engage - called White's comments unprofessional and inappropriate.
"In my opinion, it was inappropriate to make public statements regarding my character and my future and so on the way that he has, especially without having the courage and the respect to call me up and speak with me personally," Starnes said. "All of these comments come from a man that has never had a fight in his entire life who claims to be the ultimate authority on fighting and courage. I couldn't be happier than to be released from the most oppressive contract I've ever been under in my life."
According to the American Top Team-trained fighter, injuries led to his switch from an offensive to defensive mode against Quarry. For a majority of the fight, Starnes back pedaled out of harm's way and away from his opponent's dangerous punches. A former challenger for the UFC middleweight championship, Quarry battered Starnes with leg kicks throughout the three-round bout.
"Right now, I have a broken foot [that] I sustained with the first kick I threw in the fight," Starnes said. "My leg is purple and black from my knee up, I have a black eye, a sprained jaw, and he's questioning my desire to fight? If that isn't enough to satisfy him and the crowd, I can show them the medical report. I can barely walk. [Quarry] totally destroyed my thigh with those kicks. I'm sure a lot of people would rather see me suffer a traumatic brain injury and be rendered unconscious. That's too bad. If that's what they want, they're paying the wrong guy $10,000 to get his brain smashed in."
Starnes then invited White to walk a few feet in his shoes.
"Dana White wouldn't stand and trade with a guy [like Quarry] who had an 80 or 90 percent knockout ratio with injuries like I had Saturday night," Starnes said. "He wouldn't cross the street for $10,000. I don't have anything to prove to anybody. I'm not about to stand there and get smashed to pieces. After I knew my foot was broken, I was trying to back up and work off the jab and keep moving so I didn't get knocked out."
Thanks to BE reader Brett Jones for the revealing .gif