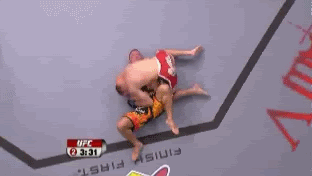 This installment of the Bloody Elbow Judo Chop is a little less defined than previous installments. Instead of talking about a specific technique, I'm waxing rhapsodic about a little discussed aspect of the game -- the scramble.
This weekend's UFC 89 match between Jim Miller and David Baron featured several tasty escapes and reversals that I found to be far and away the highlight of the event.
The instance pictured here is from the 2nd round of the fight. Miller starts out in side control but Baron powers out. Baron briefly regains his feet, but only just in time for Miller to grab his head and get an underhook on his left arm. From there Miller drops into a guillotine and rolls Baron back to his back. He didn't finish, but he maintained top control for the rest of the round.
Baron reversed Miller at least four times in the fight, this being the last. But Miller's scrambling is so good he quickly re-established control each time. Against a dangerous fighter like Baron that makes a huge difference. Many times a wrestler will lose top control and never get it back. Miller's combination of good wrestling and killer jiu jitsu is a very dangerous one. See Shields, Jake.
This is the kind of action that makes me love the WEC so much. Uriah Faber's fights are full of these action packed scrambles. When people bitch about fights featuring wrestlers being exciting they're usually referring to matchups like Tyson Griffin vs Frankie Edgar or Clay Guida where both guys can wrestle. Matchups those same wrestler can just as often be accused of boring layNpray fights -- Edgar vs Fisher or Guida vs Danzig but IMO its their opponent who's boring -- dude can't get out of bottom position. Mark my words, Sean Sherk vs Tyson Griffin could be a scorcher for this very reason.
In the case of Miller vs Baron things were especially tasty because of Miller's wrestling + BJJ background up against Baron's mainly judo-based grappling. More on that, and 3 more animated gifs from the fight in the full entry.
An utter failure to appreciate the beauty of this aspect of the MMA game was behind the failure of EliteXC. Fans don't mind groundfighting, they just want to see action packed ground fights.
About the name of this feature: I chose Judo Chop because it's an utter misnomer that is sometimes used by poorly informed MMA commentators during fights. It's also from the Austin Powers movie. I chose it because it reflects my own lack of expertise and what this column is, my stumbling along in the dark trying to get a handle on the technical aspects of the fights. The techniques featured here will sometimes involve judo but not always. Sorry if that's confusing.
First off, here's an instance of a similar sequence from the first round. Again Miller's in side control but this time Baron has control of his head. When Baron powers out, Miller wasn't able to immediately scramble back to control.
Later in the same round, Baron escapes from side-control again, this time by sitting up rather than powering out. This is where things get really interesting.
Baron stands up, gets control of Miller's right arm and attempts to execute a seonage throw. A classic judo ippon move, until Karo Parisyan showed it could be used effectively in MMA, seonage was long considered a move not worth the risk. Miller reminds everyone why here.
Miller manages to get an underhook with his left arm and to grip his right hand with his left. Therefore instead of throwing Miller on his ass, Baron ends up with a BJJ monkey on his back. Its a classic MMA situation! The genius of BJJ was its emphasis on maintaining positional control. Moves like seonage inherently give up that control to get the throw. The throw can work in MMA but you have to watch and make sure you're countering this BJJ trick.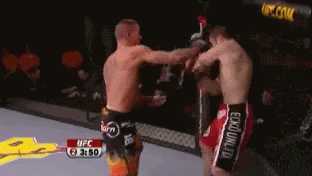 In this last one, Baron counters Miller's single leg attempt with a nice variation of Sumi Gaeshi Tomoe Nage (see comments, thanks everyone!). In traditional judo the roll relies on gi-grips. In this instance Baron's got a front headlock on Miller. When Luke and I were talking about this sequence he wanted me to mention that in this move, "the legs do all the throwing with momentum from the headlock." In Karo's book, he mentions repeatedly on moves like this that the key is to sit straight down, not to attempt to roll backwards. Baron wasn't able to capitalize much on this move, but he's someone I expect to win his next UFC fight. Miller is just that good.
As always let me know what I've fucked up. I'm strictly an armchair martial artist.